Nintendo unveils a new addition to the 3DS family.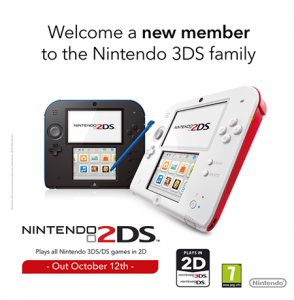 Nintendo have today released details of a new console in the 3DS family.  The newly named 'Nintendo 2DS' is being positioned as a 'value' version of the 3DS.  It comes without the 3D capabilities of it's older brothers, hence the name, and dispenses with the clamshell design as well, instead being a one piece unit with both screens on the front and the buttons up at the top of the unit.
The 2DS will play the full range of 3DS titles, both physical and download, and is due out on October 12th at a price of $129.99.  It's an interesting move by Nintendo, and personally, I think the console looks a little bit on the ugly side, but a budget model 3DS can surely only help the 3DS increase its user base.
You can check out the launch trailer below: –