2K Games is bringing the former THQ-published franchise over to their stable in style with the Phenom Edition of WWE 2K14.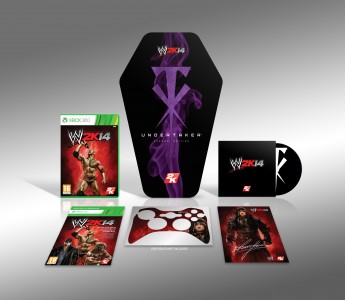 Here's one for the Deadman fans; WWE 2K14 'Phenom Edition' is set to launch right alongside the standard version of the game this Fall. In addition to the game itself (duh), this special edition pays homage to one of the most popular and longest lived (pardon the pun) wrestlers of all time- The Undertaker.
Known as the Deadman, the American Badass, and of course The Phenom, The Undertaker (Mark Calloway) has been around for a long, long time in the Federation. He's battled the likes of Hulk Hogan, the Ultimate Warrior and Bret Hart- and now he's the focus of the collector's edition of the latest game in the WWE video franchise.
Inside of the tin casket case (nice touch), the Phenom Edition of WWE 2K14 is:
Exclusive tin coffin box
Exclusive collectible art card personally autographed by Undertaker
Exclusive Undertaker playable character: "American Badass"
Exclusive Undertaker-themed controller skin
"WWE Undertaker – The Streak": Disc #1 (on DVD)
Access to WWE 2K14 global pre-order offer: Ultimate Warrior playable character
Copy of WWE 2K14 video game
All in all,, this is a pretty nice little set- especially if you're a fan of Calloway's immortal WWE character; The Undertaker. Actually, I'd be in just for the American Badass character, that was always my favorite version of 'Taker. The bike entrance was cool, the outfit was cool… even the entrance music was cool. And I mean either the Kid Rock or Limp Bizkit version by the way.
WWE 2K14: The Phenom Edition rises from its grave on October 29th for the Xbox 360 and PS3.