Mini heroes with some big time cool.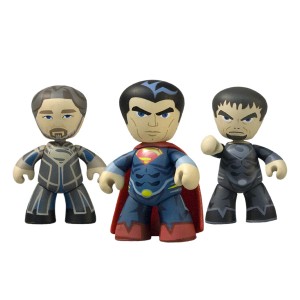 Another one of toy maker Mezco Toyz' Summer exclusives has been revealed and it's a big one. Or maybe, a small one would be more appropriate. Having its wraps taken off just in time for the Man of Steel movie opening everywhere next weekend, the Man of Steel Mez-Itz Tri-Pack will include lil' versions of Jor-El, General Zod and the Man of Steel himself- Superman.
The Tri-Pack comes in a collector friendly window box and will only be available in an edition of 1200pieces and will be available at the Mezco Toyz booth (#3445) at the San Diego Comic Con and on www.mezcotoyz.com If you're going the website route to get yours though, you might want to be extra quick about it as there'll only be a limited amount of them available there.
Photo credit: Dehlia Arce