Deck out your iPhone in your Star Trek: The Next Generation uniform of choice with Power A's new lineup of cases.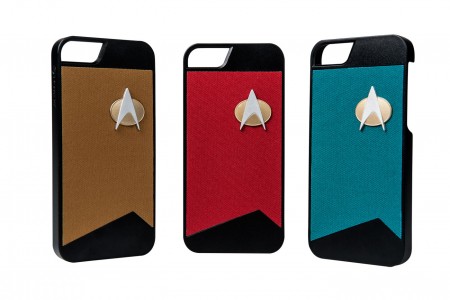 Sure the JJ Abrams version of the Trek universe is the one getting all the attention at the moment, but the classic timeline is still just fine with most fans. Apparently, it's just fine with peripheral maker Power A too because their new line of iPhone cases pays some serious homage to the series that brought Star Trek back from obscurity in a big, big way.
"The Star Trek universe is revered by fans around the world," said Eric Bensussen, President of PowerA. "We were able to get creative with these Star Trek mobile cases, and now fans can be proud and show off their passion for the franchise by taking it with them wherever they boldly go."
The cases come in a trio of color choices -red, blue and gold- and are made to fit the iPhone 5. These are no cheapies either- each one is built from ABS plastic and woven fabric with a raised 'communicator badge'. If there's a fan that appreciates detail, it's a Trek fan, so the extra detailing is a very good thing.
The Star Trek: The Next Generation iPhone 5 cases are available now on PowerA.com and will run you $29.99 each.