Valiant Comics collects the original debut of The Eternal Warrior from the pages of Archer & Armstrong with the deluxe hardcover Valiant Masters: Eternal Warrior Vol. 1 – The Fist and Steel.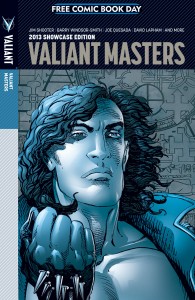 If you're into the current, rebooted Archer & Armstrong, then this is a book that you probably shouldn't miss out on. The Fist and Steel collects The Eternal Warrior's first adventure from Jim Shooter and John Dixon as well as the legendary Barry Windsor-Smith's "Time & Space," "Space & Time" and "The Musketeers!".
For a thousand generations, Gilad Anni-Padda has defended the innocent and dealt out justice as the Eternal Warrior – the undying champion of the Geomancers, the Earth's chosen Fist and Steel. An unsung veteran of every war ever waged, Gilad's hard-fought quest from the ancient world to modern day Los Angeles will force him to the forefront of the Valiant Universe – and into a brand new kind of battle alongside the likes of Bloodshot, X-O Manowar, and his own long-lost brother, the one and only Armstrong.
In all, you get the first seven issues of The Eternal Warrior as well as Archer & Armstrong #8 and Eternal Warrior #8. All the books included are from 1992, which was Valiant Comics' first run as a publisher. If you haven't read any of these, or just know the company from their hugely successful relaunch last year, then all of the stories in the hardcover are well worth your time.
You'll be able to check out Valiant Masters: Eternal Warrior Vol.1 – The Fist and Steel and add it to your bookshelf when it hits stores this August. You can also get a sneak peek at the book this coming Free Comic Book Day when the Valiant Masters: 2013 FCBD Showcase Edition will be given away as a part of the nationwide program. Look for that little freebie on May 4th.