Warner Bros. and NetherRealm's Injustice: Gods Among Us isn't too far from launch now, but there are still some surprises to be had. Surprises like Stephen Amell and the big bad Doomsday for instance.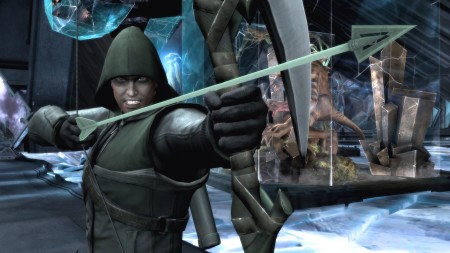 The first announcement just out of the gates this week is that Stephen Amell, who plays Green Arrow on the CW show Arrow, will appear as an alternate skin for Green Arrow in the game. And Amell won't be just lending his likeness either- he'll also be voicing Mr. Queen on screen as he takes it to the rest of the in game DC Universe.
DC Comics fans should also be happy to hear that the monster who 'killed' Superman once upon a time, Doomsday, will also be available on the roster.
And while we're on the subject of video's, there are plenty of them from the Injustice Battle Arena matches from last week- and they're all big name match-ups. Batman vs Wonder Woman, Superman vs Arrow, The Flash vs Joker, and Green Lantern vs Aquaman are all here for your viewing pleasure. Check 'em out below and set your calendar, Injustice: Gods Among Us launches for the Xbox 360, PS3, and Wii U on April 16th.