We all know that there are legions of fanboys out there for just about everything, but the Fangirl population is a rapidly growing one too. And it's one that Geek Girl clothier Her Universe is set to give a place all their own.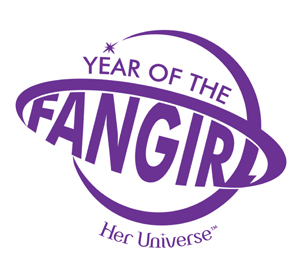 The initiative, called Year of the Fangirl, is actually a daily spotlight (that just started on the 25th) where HerUniverse.com will feature a different female sci-fi fan every day as 'Fangirl of the Day'. Fangirls of every walk and genre are welcome to enter (if you're under 13, you need to be nominated by an adult though) and have the geek spotlight shown on them.
Company owner Ashley Eckstein (who voices Ahsoka on Star Wars: The Clone Wars) has hand picked a squad of five to sort through all the entries and select winners.
"From day one, it's been very important to me to make Her Universe a positive and supportive community for fangirls," said Ashley Eckstein. "I've traveled the nation over the past 2 ½ years with Her Universe and I have been inspired by so many amazing women. There are several great outlets that highlight fangirl celebrities and pop culture news but I wanted to create a place where we will share the stories of everyday women who are proudly letting their geek flag fly! If she considers herself a fangirl, we want to hear her story!"
So who is this Jedi Council of female geekery? The group of five was actually hand picked by Eckstein and definitely has the fangirl cred:
Tricia Barr – a professional engineer, author, and founder of FANgirl Blog, which focuses on discussing Star Wars, strong female characters, and storytelling.
Erin Kelahan – a longtime sci-fi/fantasy fangirl and passionate supporter of Her Universe and fangirls everywhere. Erin's goal in life is to help as many people as possible find and embrace their inner geek.
Amy Ratcliffe – a freelance writer, Star Wars enthusiast, twitter addict and all-around geek who enjoys most things sci-fi and fantasy. Amy has written about comics, cosplay, conventions, and other topics around the internet and in print.
Victoria Schmidt – a veteran cosplayer "Scruffy Rebel," and co-founder of the geek girl fashion and style blog, "Set To Stunning." A geek fashion trendsetter who has spent her life devoted to a broad range of fandoms.
Lillian Skye – a Star Wars fan since before she could hold a lightsaber, now a junior in high school, Lillian writes for a student run publication published weekly by the Tampa Bay Times and has her own blog for geek chic Star Wars fans called "Fangirls in the Force."
Fans who wish to submit themselves to be featured as the Fangirl of the Day and those looking to vote or nominate others can head to www.heruniverse.com and get to it.