The King is back as the publisher will be producing a pair of series' based on King Conan: The Hour of the Dragon.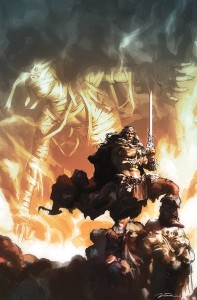 Conan has had a pretty long and storied comic book career of defeating his enemies and driving them out (not to mention listening to the sweet sounds of the lamenting), but creator Robert E Howard actually only penned one complete novel that bore the character's name. And that book will be the subject of two new six-issue miniseries from Dark Horse Comics.
The opening series will be dubbed The Hour of the Dragon and will run through October of this year. After a brief pause, the warrior king slings himself back into action as King Conan: The Conqueror will pick the action back up in February 2014.
King Conan has faced many threats to his throne in Aquilonia—but none more deadly than a traitorous alliance backed by the resurrected sorcerer Xaltotun, at whose command mountains crumble!
King Conan comes to readers from the fan favorite creative team of Timothy Truman, penciler Tomás Giorello, and colorist José Villarrubia. Mark it on your calendars sword and sorcery fans, because the book(s) will lead right into the newly announced ongoing Conan series set to debut next year – The Legend of Conan.