Well it looks like Superior Spider-Man isn't making any friends with his new 'attitude'. The latest Marvel NOW! teaser looks like it means curtains for the web-slinger's Avengers career.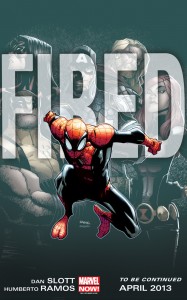 I'm not going to put any Superior spoilers in here (just in case you missed ASM #700), but I think I'm safe in saying that this isn't your father's Spider-Man anymore.
I can't say I'm in love with what writer Dan Slott is doing with the character (or characters, plural, if you catch my drift…) but it seems like this is one plot line that's far from over. The new teaser image shows Spider-Man in his 'superior' uniform with the Avengers looking on disapprovingly and the word 'FIRED' stamped across the page.
Spidey as a core Avenger (he's been a 'back up' forever) was always something I had a problem with. I like him as an independent hero with no hard and fast allegiances to any team, so personally (if he does indeed get the axe) I like this move.
This move. …As far as the more (shall we say…) controversial aspects of the current version of the character, I'll reserve judgement on those till I see where all this is headed.
The Fired arch kicks off in the Marvel U this April.