This is no dream, no imaginary tale, true believers! Stan Lee is coming to Hasbro's Marvel Legends series as part of the Marvel 80th line.
Excelsior!
One of the most prolific creators in comics from any company out there, Stan Lee was a legend. Passing last year, Lee left behind a legacy that few can match today, or will ever match in the decades to come.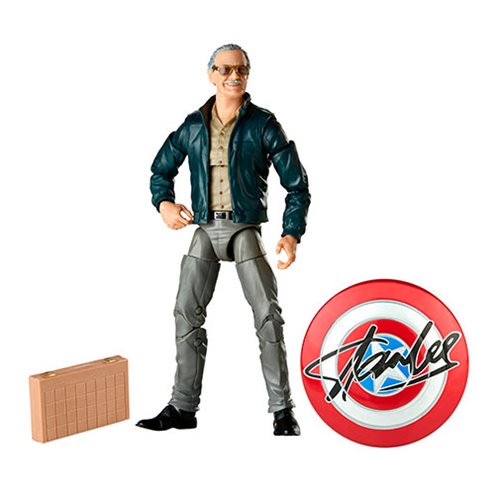 As a little bit of a celebratory nod to the man, Lee will get his own action figure next spring from Hasbro. Officially a part of the Marvel Legends 80th anniversary line, Stan Lee is a fully articulated figure and is modeled after his appearance in the first Avengers film. So I guess technically Lee is an MCU figure, but he could certainly fit in with any 6″ Marvel Legends setup, whether it be movie or comics.
He's also packed with a pair of accessories. The first is a chess board (from the film), and the second is a Captain America shield with a reproduction "Stan Lee" autograph on it. Odds enough, Cap wasn't one of the myriad characters created by Lee, but the shield does look great with the auto splashed across it. Can't deny that.
The figure will land in stores in May of 2020, which is kind of interesting in and of itself. I had assumed that the 80th line would be contained to 2019, but here we have it rolling into '20. That of course, teases that there might be more on the way too.
That's besides the point though. Stan Lee will run you $24.99 USD, and is available now for pre-order from our friends at Entertainment Earth.