Nintendo's Direct presentation has taken the wraps off of all the new stuff in Super Mario Maker 2. No, there's no SMB2 theme, but everything else looks pretty sharp.
Mostly new, somewhat different
Super Mario Maker 2 isn't going to be radically different than the first game in the series (or the 3DS version). But then again, how different could it possibly be? We are, after all, talking about what's essentially a sequel to a construction set that allows players to make Mario courses. So it's basically another one of those, just with more options.
One of the major things it could have offered was a Super Mario Bros 2 aesthetic. But it now looks like that's not happening. Or if it is, Nintendo has decided to not reveal that today for some mysterious reason. So I think it's pretty safe to assume that little dream is dead… if anyone actually had that dream outside of me.
What is here though, is frankly pretty great sounding. Nintendo is loading Super Mario Maker 2 up with loads of fresh content. Let's take a look at the bullets, right from the company itself.
New parts, tools, and features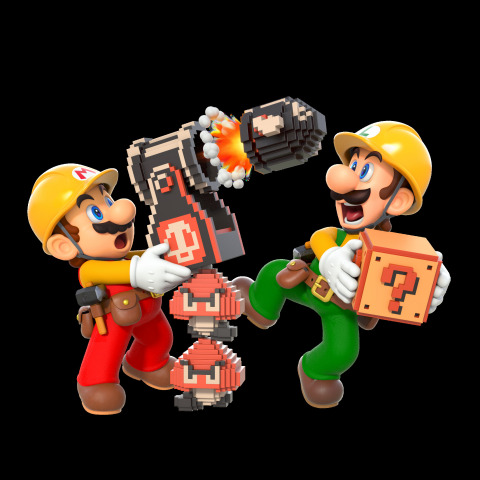 Slopes – Create angled surfaces by just picking a direction and setting the length. Gentler slopes are an additional option.
Angry Sun – Remember the angry sun that attacked Mario in the Super Mario Bros. 3 game? It's back and ready to put the pressure on players in this new game.
ON/OFF Switch – Hit an ON/OFF Switch, and all the red and blue blocks in the course will swap! Setting them up wisely will help players create tricky puzzles and obstacles.
Water Level – The water level in Super Mario Maker 2 can be adjusted in the Forest theme, so only half the course can be underwater if that's what the player wants. Water can even be set to rise and fall at different speeds over time.
Banzai Bill – The red variations of these classic Super Mario enemies have a homing function, and chase poor Mario wherever he goes.
Co-op Making: Pass a Joy-Con controller to a friend to create a course together, side by side.
To Be Continued…: There are more secrets in Super Mario Maker 2. Players will have a blast experimenting with all the tools and features they can use to create.
Super Mario 3D World features
Cat Mario – Cat Mario can climb walls, scratch, slide and pounce on enemies. Players can even use Cat Mario to climb up the Goal Pole!
Clear Pipe – Clear Pipes can be placed in any shape the player wants, but they have to be careful, as enemies can also slide through them.
Koopa Troopa Car – Hop in this sweet ride and zoom through the course. Players just have to make sure not to crash!
Track Block – The Track Block will follow any path the player draws. The blue one starts moving when the player steps on it.
Piranha Creeper – The Piranha Creeper follows the path that the player draws, extending its dangerous spiky stem around the course.
Who's Who in Super Mario 3D World?: A cast of other familiar faces will also make appearances in Super Mario Maker 2, so players are in for a treat!
New themes, Course World returns, and there's a story mode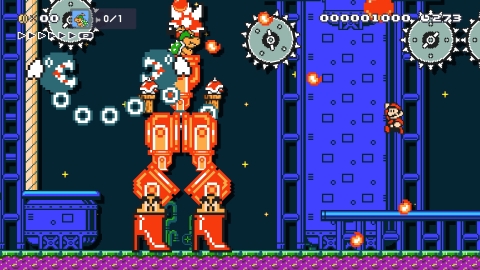 Story Mode: In the single-player Story Mode, which can be played entirely offline, Mario sets out to help rebuild Princess Peach's castle. To fund this reconstruction project, he needs to collect Coins, which he can earn by accepting jobs from the bulletin board and completing the associated courses. Story Mode is a great way for makers to get inspired, with more than 100 original Nintendo-crafted courses to play. 
New Course Themes: In addition to all the course themes from the original game, players will be able to create and play courses using the Desert, Snow, Forest and Sky themes. These themes feature new music by veteran Super Mario series composer Koji Kondo. The new Moon course part can be used to unlock night versions of themes. Depending on the theme used, wild things will happen at night, including floating Goombas, dimmed lighting in the Ghost House and sandstorms in the Desert. Some items might even transform in the nighttime…
Course World: An online hub where players can play and share courses, as well as play together, Course World is available for players around the world who have a membership to Nintendo Switch Online. Players can browse by Popular Courses, New Courses or even search for specific tags like "puzzle-solving" or "autoscroll" using a set of filters. Once a course is downloaded, it can be played anytime – including offline! Players can also personalize their Mii character's appearance using items like shirts and hats that unlock after completing various objectives. In Endless Challenge, players will try to complete as many Course World courses as possible on the difficulty of their choice before getting a game over. Earning impressive scores in this mode might even get the player on the Leaderboards!
The multiplayer
Multiplayer Versus – Four players face off in a side-scrolling showdown in this online multiplayer mode. Each player will be assigned a different character, then race each other in a randomly selected course. The player who clears the course first wins and increases their Versus Rating.
Multiplayer Co-op – In this online mode, up to four players must work together to beat the course. If one player finishes it, everyone wins!
Nearby Play – If up to four players each own a Nintendo Switch system and the Super Mario Maker 2 game, one can set up a virtual room that the others in the same location can join to play together on their own systems. Only the player setting up the room needs an internet connection.
And more…
In addition to the above, there were a few more little tidbits shared today. Nintendo will be debuting an interesting new "voucher" system on the eShop. Using that, you'll be able to get two games, like Super Mario Maker 2 and another eligible digital title at a discounted price.
Basically how it works is that gamers buy an eShop voucher for $99 USD. They then use that to pick up two games from a set list of titles. It doesn't seem like a bad deal if you wanted these already, since you're saving around $19.99 USD. The vouchers apparently don't have to be used at the same time either, and you have a year from the date of purchase.
Along the same lines, Nintendo talked about a Super Mario Maker 2 Switch Online bundle, which will go on sale on June 28th. You'll only be able to buy this one in the eShop, and it will net you the game and a 12 month subscription to the Nintendo Switch Online service. According to Nintendo, the deal nets you $9.99 USD off the total price for both.
Finally
Closing things out is the announcement of the Super Mario Maker 2 Invitational 2019. Not that it doesn't sound kind of fun, but it's mainly if you're going to be around the weekend before E3.
Super Mario Maker 2 Invitational 2019 – On June 8, four members of the Super Mario Maker community will compete in a variety of wild and unpredictable Super Mario Maker 2 courses designed by Nintendo's Treehouse team. The event will open up the festivities at The Theatre at the Ace Hotel in Los Angeles, starting at 11 a.m. PT, and will be followed by the Splatoon 2 World Championship 2019 and the Super Smash Bros. Ultimate World Championship 3v3 2019. For more information about the event, including ticketing information, visit https://e3.nintendo.com/.
Super Mario Maker 2 hits the Nintendo Switch on June 28th.