Marvel Comics has announced a series centered on the Mad Titan Thanos' crew of baddies. The Black Order is back.
Where's Thanos?
So, if you haven't read Infinity Wars up to present, this might be a question that you're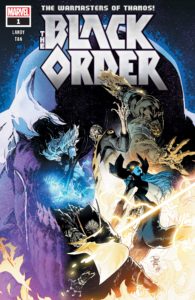 asking right now. Well I'm hardly going to spoil it for you, but know that there's a reason why Thanos isn't in this press release. Or the book for that matter… at least, not right away.
What you will find in this new series from Marvel Comics is a heaping helping of The Black Order, and the villains that make it up. Sent out into the universe by the Grandmaster, The Order will be up against "someone even bigger and badder". Who that is, is a mystery right now, but this sounds like an evil vs evil battle.
"Springboarding from their last appearance in AVENGERS: NO SURRENDER, BLACK ORDER sets the flagitious five on a bloody, brutal, head-rolling take-no-prisoners tear that will pit them against the forces of an entire Galactic Empire–and where they'll encounter some familiar Marvel faces as well as some bonkers new faces along the way!" teases SVP and Executive Editor Tom Brevoort.
The Black Order #1 lands on racks this November the 7th.