This one's heading to Kickstarter, but I can't imagine it not getting a green light. Dynamite's planned box set for Vampirella #1 is looking great.
Vampy is back
I haven't been paying attention to what's been happening with Vampirella, but it sounds like there's a bit of a renaissance happening. Coming off of a Vampirella/Dawn crossover, the alien vampire is set to relaunch with a #1 issue. And if you're a fan of the Linsner's, you're probably going to dig it. That's because the husband and wife duo will be working to craft "Roses for the Dead".
Dawn's artist Joseph Michael Linsner is officially on the book, along with writer Kristina Deak-Linsner, who's also lending her talents to a special cover.
"I've always been attracted to characters who are "bad for good" meaning that at first they may look like villains, but they are really heroes," says Joe Michael Linsner.  "Batman is kind of like that.  Vampirella, a genuine vampire, is definitely like that.  She lives by consuming blood, but she has a mission.  She stands up for the innocents of the world and only drinks the blood of the guilty.  Hell, they deserve it.  I'm also thrilled being the artist chosen to illustrate the first series written by my talented wife, Kristina Deak-Linsner.  Over the years, Kristina has told me many of her ideas for stories.  I think it is great that she is finally going to be sharing them with the world."

When asked about what makes her excited about the project, Kristina Deak-Linsner added, "I wanted to write something that harkens back to the Warren days but with a new twist. I think any reader, whether familiar with Vampirella or not, can dive right into this series and instantly get a feel for what is happening. The setting takes place in Philadelphia (my town) and the historical architecture mixed among a modern landscape has such a great schizophrenic feel. I truly hope everyone enjoys it."
Kickstarting a legend
Vampirella has been around for a long time of course. So it might be a little odd to see a new Vampy comic heading to Kickstarter. All the same though, it's a pretty great little package that Dynamite has assembled for the campaign.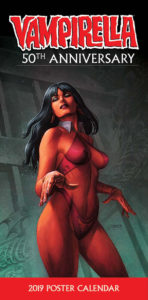 For (Kick)starters, this isn't just the first issue of the book, but a box set. All five of Linsner's covers will be included in the pack, which is an actual box. The packaging bears full color illustrations from the artist, and flips open to reveal its contents. It's even got a magnetic closure.
Aside from the comics, you'll also find a pair of prints included. Better still, one fo those will be signed by Linsner. There's one other thing too, though it's not included in the price of the set. In the campaign, you'll also be able to add a calendar to your purchase.
Impressively sized at 24.5″x12″, this poster-calendar holds 12 huge images from throughout Vampirella's history.
Click here to check it all out. Just make sure you do it fast, as of this writing there are only 5 days left in the campaign, and none of this stuff is guaranteed to be found at retail.