This… is an interesting development. Wave 14 of the Star Wars Black figure series has been revealed, and it's packing a Solo who's been written out of canon.
Jaina Solo?!
Now, don't get crazy. This is a kind of meaningless figure in the grand scheme of things. It's just an awesome little nod to the rich past that Star Wars has, and also a pick by fans.
If you don't know, Jaina Solo is the daughter of Han and Leia in the former Expanded Universe. That was (more or less) canon for a long time, and encompassed novels and comic books from Dark Horse. Jaina was one of two children that the famed Rebel couple had, and the other wasn't Ben Kylo Ren. He was the much cooler (settle down, I'll add an IMO) Jacen.
When Lucasfilm was bought by Disney though, the comic license was given to Marvel (which the company also owns), and the EU was collapsed. Actually, it was erased and made to be like it never existed. It's one of the reasons that Grand Admiral Thrawn's appearance in Star Wars Rebels is such a big deal – he's an EU character too.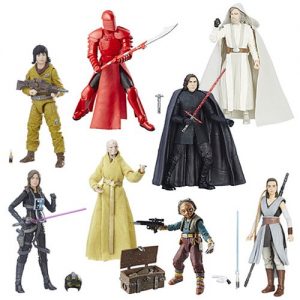 Be that as it may though, I wouldn't expect to see Jaina show up anywhere, since Han and Leia's future is well set in the new "present" of the Star Wars universe. Still though, to get her as a "fan's choice" figure is pretty awesome, and a trend I'd love to see continue. Who knows, maybe we'll get a Jacen at some point… or any one of the dozens of other cool characters who fell by the wayside.
But I digress, because the rest of this wave is also pretty nice (but not as cool as Jaina).
In total, the new series includes:
Those are two more big characters in there, especially for fans of the new trilogy. Rose is a totally new Resistance member, and Snoke should need no introduction. He's the mysterious head of the villainous First Order.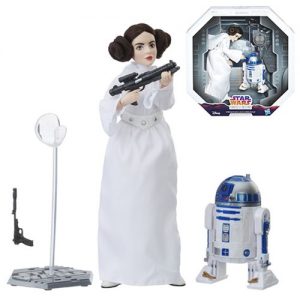 They all join a wave that includes (older) Luke Skywalker, a Royal Guard, Kylo Ren, Maz Kaneda, and Rey. That's pretty solid, if you're looking to build out your Last Jedi collection.
You'll also note the Leia "adventure doll" in there. She's a notable addition to that set of toys, since she's deluxe. Leia is decked out in her Episode IV outfit, and actually includes R2-D2 as an accessory.
All of the above, are pre-orderable via their links at Entertainment Earth. Watch for them to ship out in November of this year.