CORSAIR is a leader in the gaming industry for a reason. Check out the new Ultra-Durable Corsair K68 Keyboard.
Making Mechanical Even More Appealing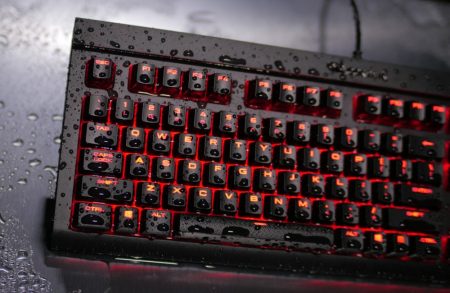 Announcing the new Ultra-Durable CORSAIR K68 gaming keyboard. Continuing CORSAIR's commitment to mechanical key switch quality, the K68 uses 100% CHERRY MX LED-lit mechanical keyswitches, combining them with a per-key silicone rubber shield to make the K68 both dust and water resistant tested to an IP32 rating. Preserving all the mechanical touch and feel that has made CHERRY switches gamer's first choice, K68 also boasts per-key dynamic back-lighting and dedicated multimedia controls, allowing for simple customization and on-the-fly audio adjustment. CORSAIR K68 – ready for everything you, or your games, can throw at it.
While it's designed to survive action outside of the game, the K68 also has everything you need to enable a high-performance gaming experience. Per-key red LED dynamic backlighting is completely configurable using CORSAIR Utility Engine (CUE) software, allowing gamers to choose from a wide-range of dazzling pre-set lighting effects, or download hundreds of user-made profiles. CUE also enables in-depth Macro support, allowing any key on K68 to be remapped to any other command or complex multi-function macros. Dedicated volume and multi-media controls put play, pause and skip at the touch of a button to minimize alt-tabs and interruptions, while dedicated windows-key-lock and lighting brightness buttons eliminate distractions or interruptions when you need to focus most.
Water resistant, dust resistant and made for gaming, K68 is mechanically tough.
Specifications:
100% CHERRY MX Red keyswitches: Gold contact CHERRY MX mechanical gaming keyswitches deliver the ultimate competitive advantage.
Dust and spill resistant: Help protect from accidents so your gameplay never has to stop.
Dynamic backlighting: Brilliant RED backlighting enhances the experience with virtually unlimited lighting adjustability.
Dedicated volume and multimedia controls: Adjust audio on-the-fly, without interrupting your game.
100% Anti-ghosting with full key rollover: No matter how fast your in-game actions are, every keypress registers correctly.
Fully programmable with CUE: Intuitive and powerful CORSAIR Utility Engine (CUE) enables sophisticated macro programming and dynamic lighting effects.
Windows Key lock mode: Stay focused and prevent accidental Windows and Context Menu key presses.
Fore more information, check out Corsair.