Asteroids, Centipede, and Missile Command. Classic names, and all are on the way to a tabletop near you. It's thanks to deal between IDW and the legendary Atari games.
Classic video games become brand new board games
"Atari is one of the hallmarks of our generation," says Jerry Bennington, VP of New Product Development. "We're honored with the opportunity to be able to bring the Atari classic archive to the tabletop."

"IDW Games has a fantastic history of bringing licensed products to market, and we're thrilled to work out a partnership and see our classic games on the tabletop," says Fred Chesnais, Chief Executive Officer, Atari.
A match made in gaming-heaven? It just might be, as IDW Games has been making a name for themselves in the tabletop arena, and Atari's franchises could very well be the next feather in their collective cap.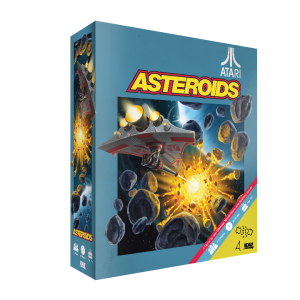 So what has IDW done up to now? Well do the names Teenage Mutant Ninja Turtles, Back to the Future, and The Godfather ring a bell? Those are just a few of the big time properties that they've worked with. Even so though, adding Atari is a big move for the company, since it opens them up to an entirely new audience.
These are compelling names that are being tossed around too. The likes of Asteroids, Centipede, and Missile Command have all been confirmed, and will be worked on by Jon Gilmour. Tabletop fans probably know that name from the game Dead of Winter, on which he worked as co-producer. He'll be joined by a team of "up-and-coming co-developers" as well, all of whom he's "hand-picked".
Long story short- these have a good chance of being pretty awesome. So stay tuned, the first game will be Centipede, which'll be hitting in the Fall of this year.