Borrowed Elements and a Classic Era Make for a Sci-Fi Horror Masterpiece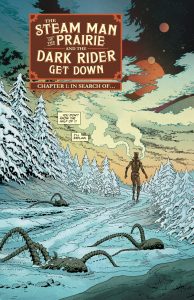 When I first began to read "The Steam Man" from Dark Horse Comics, I wasn't sure what to expect. Usually, when I get these comics I tend to just go off the name alone and see if it grabs me. I don't read anything up on the writer nor a preview of the story or any panels. I go into my reviews completely fresh of the material so I can get a really good gauge on what a new reader would appreciate. I was so unbelievably happy that I came into this experience with no knowledge. Being able to read through this adventure and truly experiencing everything for the first time was an amazing reward. Enough of my praising though, let's get to the goods.
The Story
"The Steam Man" takes place in the year 1899 in the Old West. It doesn't specify exactly where in the United States we are as the story unfolds, but it has a very Western feel to it. The story elements are a complex concoction to form its wild universe. Iron Giant meets Wild, Wild West meets War of the Worlds meets The Time Machine meets Dracula. While all these elements may not seem to work in tandem, as there is so much material within all, it all actually works fantastically. The world has just been met with creatures who tore through our sky and decided to try and lay waste to all humanity. The Steam Man was built with this attack in mind but our story takes place after the attack and all the alien ships lay where they fell with our protagonists following the trail of a mysterious figure dubbed "The Dark Rider."
Joe Lansdale and Mark Alan Miller weave an intricate story involving what the future may hold and how one small mistake can drastically change the river of time forever. Aliens, vampire like cannibal creatures, a lone, evil cowboy and a group of friends who drive a 7 story tall, steam powered giant like a ship. All these elements work amazingly well together and will keep you flipping through the pages until its bitter-sweet ending. I was engaged, intrigued and couldn't stop reading this amazing story. The sci-fi was heavy and the horror gave me buckets of gore. Plenty to enjoy for fans of either genre.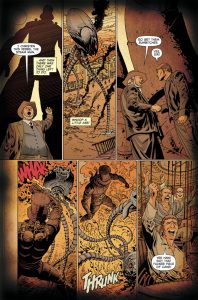 Overall
On the whole, "The Steam Man" yields very little complaints, if any, and even those are too small to even bring up. This story was great from beginning to end and hooked me right off the bat. Clive Barker endorsed this book with "A must read!" and he was absolutely right in that sentiment. If you're a horror fan, that should be endorsement enough to jump on into the adventure. The characters are well developed though you aren't given any backstory as to how they all got together, especially the character, Feather. While this would have been welcome, it wasn't exactly missed as what was happening in the present was exciting enough. Plus… a giant robot fighting a giant creature made of branches driven by psychotic vampire cannibals? Come on… it really doesn't get better than that. A MUST READ!!!
Released July 6th by Dark Horse Comics
An Absolute Must Read
Story - 95%
Art - 85%
Originality - 100%
Overall, The Steam Man is a very well written sci-fi horror story that I look forward to continue reading. The art is fantastic and I want to see where this new world leads our heroes.