Big TV premiers mark a September on the Epix network that also includes a comedy special from former late-night MC Craig Ferguson.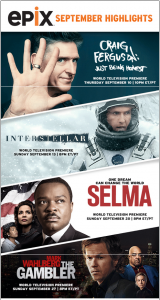 I'm a pretty big fan of Ferguson, who I thought brought some actual laughs to late night comedy shows in his now defunct CBS program. But just because he's not hosting anymore doesn't mean that he's completely in the wind, as he'll be recounting old stories and talking about all manner of uncomfortable things in this new special, which was filmed live in NYC. The show hits the airwaves (well, cable anyway) on Thursday the 10th of September at 10pm eastern and pacific.
Past that, there are some big time moves making their television debuts next month on Epix with Selma ( Sunday, September 20th, 8pm ET/PT), Interstellar ( Sunday, September 13th, at 8PM ET/PT), and The Gambler (Sunday, September 27th, 8PM ET/PT) all appearing.
Have a full look at what's on tap below:
CRAIG FERGUSON: JUST BEING HONEST: Craig Ferguson's new special "Just Being Honest" captures a comedic genius at the peak of his powers. He delivers an unrestrained and brilliant performance covering the deeply meaningless to the profoundly meaningful. From the pros and cons of catch phrases, shoes that look like feet, and the Scottish version of hacky sack, as well as religion, aging, and sex, drugs and rock and roll – including his own delightfully weird experiences with Mick Jagger, Keith Richards and Kenny G. The hour-long special was filmed in a packed to the rafters Town Hall in New York City. (TV-MA).
INTERSTELLAR: The box office smash, Interstellar, which earned more than $670 million worldwide, tells the story of a group of explorers who must travel beyond our solar system in search of a planet that can sustain life when planet Earth becomes devastated by drought and famine. The 2014 film from acclaimed filmmaker Christopher Nolan, stars Oscar® winners Matthew McConaughey, Anne Hathaway, Ellen Burstyn and Michael Caine as well as Oscar®-nominee Jessica Chastain. (PG-13).
SELMA: The heartbreakingly gripping, Selma chronicles the tumultuous three-month period in 1965, when Dr. Martin Luther King, Jr. led a dangerous campaign to secure equal voting rights in the face of violent opposition. The infamous march from Selma to Montgomery culminated in President Johnson signing the Voting Rights Act of 1965, one of the most significant victories for the civil rights movement. Director and Executive Producer Ava DuVernay's Selma follows the heroic journey the revered leader and visionary, and his brothers and sisters embarked upon which prompted change that forever altered history. The film stars Golden Globe®-nominee David Oyelowo, Academy Award®-nominees Tom Wilkinson and Oprah Winfrey, Academy Award®-winner Cuba Gooding, Jr., Carmen Ejogo andCommon. (PG-13).
THE GAMBLER: Jim Bennett is a risk taker. Both an English professor and a high-stakes gambler, Bennett bets it all when he borrows from a gangster and offers his own life as collateral. Always one step ahead, Bennett pits his creditor against the operator of a gambling ring and leaves his dysfunctional relationship with his wealthy mother in his wake. He plays both sides, immersing himself in an illicit, underground world while garnering the attention of a loan shark with a paternal interest in Bennett's future. As his relationship with a student deepens, Bennett must take the ultimate risk for a second chance… The Gambler directed by Rupert Wyatt stars Academy Award® nominee Mark Wahlberg, Academy Award® winner Jessica Lange, Michael Kenneth Williams, Alvin Ing, John Goodman and Brie Larson. (R).