The DC Comics MOBA that's been in beta state for a while now is just about done and ready for its official debut.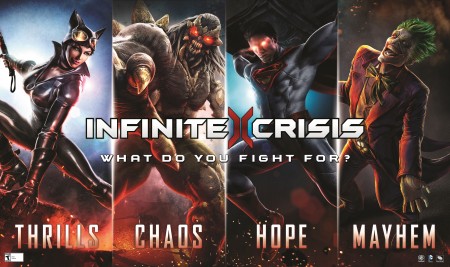 "Infinite Crisis has massively evolved over the past year with the help of the millions of players who participated in our Open Beta," said Jeffrey Steefel, Executive Producer. "We have designed, updated, and tuned almost every facet of the game based on player feedback and we are now ready to officially launch the game on March 26th."
There you have it folks, Infinite Crisis before the end of the month. The game, which stars a number of DC Comics' heavy hitters in playable form and in different flavors, plays like a standard MOBA, but with all the expected DC twists and elements. And although it does feature the multiverse and share a name, it isn't constrained by the famous crossover event at all. This one's all about PvP action.
Warner Bros and developer Turbine promise the deepest roster of DC superheroes ever present in a game for too, which should hit the spot for longtime fans. And those characters come from all across the DC multiverse, so you can expect to see 'elseworlds' variations on typical candidates like "Nightmare Batman and Gaslight Catwoman", as well as standard issue heroes like "Green Lantern and The Flash".
Infinite Crisis hits Steam on March 26th. Find out more here.