After Burner 3D jets onto the 3DS in an eShop update that also includes Lufia: The Legend Returns from the GameBoy Color and Street Fighter 2010: The Final Fight.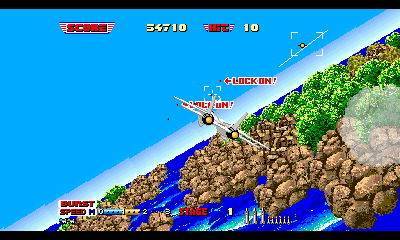 There isn't a ton of new stuff on the eShop this week, but at least things are starting to get back to normal to some degree after the post-Holiday lull. Leading things in the right direction of course, is After Burner 3D from Sega. The game is a pretty straight-forward port of the classic arcade title, but cast in a 3D view mode as it's part of Sega's 3D Classics line.
Other than the wild, blue yonder, there's also some RPG action in Lufia: The Legend Returns, which is a pretty fun game if I remember correctly… though I don't think it's aged all that well. Not in the mood for flying or role-playing? How about a trip through the post-apocalyptic world of Street Fighter 2010: The Final Fight?! No, before you ask, this game has next to nothing to do with either Street Fighter or Final Fight. Originally appearing on the but stars  Ken (not really sure if it's that Ken) who has to battle a bunch of monsters and teleport across the galaxy… or something.
Enjoy!
Nintendo eShop Sales:
Price reduction:
Also new this week:
In addition to video games available at retail stores, Nintendo also offers a variety of content that people can download directly to their systems. Nintendo adds new games weekly to the Nintendo eShop on the Wii U console and the Nintendo 3DS family of systems, the Nintendo DSi™ Shop for the Nintendo DSi system and the Wii™ Shop Channel for the Wii console.
The Nintendo eShop is a cash-based service that features a wide variety of content, including new and classic games, applications and demos. Users can add money to their account balances by using a credit card or purchasing a Nintendo eShop Card at a retail store and entering the code from the card. All funds from one card must be loaded in the Nintendo eShop on either Wii U or the Nintendo 3DS family of systems, but can be used in either Nintendo eShop if the systems are linked to a single Nintendo Network account.
The Wii Shop Channel offers games and applications and uses Wii Points™, which can be purchased via the Wii Shop Channel. The Nintendo DSi Shop offers games and applications and uses Nintendo DSi Points™, which can be purchased in the Nintendo DSi Shop.
Remember that Wii U, Wii, Nintendo 3DS, Nintendo 3DS XL, Nintendo 2DS and Nintendo DSi feature parental controls that let adults manage some of the content their children can access. For more information about this and other features, visit http://www.nintendo.com/wiiu or http://www.nintendo.com/3ds.