The big Secret Wars event is almost here and Time is Running out for the Marvel Universe.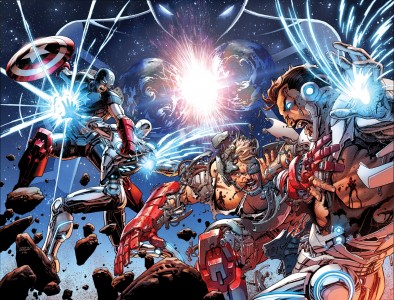 The above image represents a pair of covers that will interlock to reveal the final image. Both New Avengers #33 and Avengers #44 represent the last of their lines as we head into Secret Wars and Time Runs Out… or so the tag lie goes.
This April, the Avengers and the Illuminati face down their final hours. The clock is winding down and the final incursion is upon us. Today, Marvel is proud to present your first look at fan-favorite artist Dustin Weaver's interlocking covers to AVENGERS #44 and NEW AVENGERS #33 – the cataclysmic final issues!

Superstar writer Jonathan Hickman along with blockbuster artists Mike Deodato and Kev Walker bring to a close the epic saga of the Avengers, the Illuminati, and a Marvel Universe on the brink of extinction. The Incursions from parallel Earths from other dimensions have taken their toll on our heroes, and the battle worn Avengers stand ready to face utter decimation.

Before the highly-anticipated SECRET WARS begins in May, close out Jonathan Hickman's epic Avengers and New Avengers saga with these two, oversized final issues! What changes await Earth's Mightiest Heroes? Be there when TIME RUNS OUT this April in AVENGERS #44 and NEW AVENGERS #33!
Within these covers is a whole bunch of questions too. Namely, who's all on them? I recognize Superior Iron Man, but who's he fighting? And is that classic Captain America there? Where's FalCap? And who's in the center- is it the Beyonder? Lots of Q's and not a lot of A's at the moment, but that's Marvel for you as few company's build up to big event books better than they.
Make sure you tune in this coming Tuesday though, for the Secret Wars kickoff event as some of these questions might be hinted at with answers (though probably not). Secret Wars definitely isn't your run of the mill crossover either, as the mini-series literally ends the Marvel U as you know it, with all series' stopping dead in their tracks. What will it look like when it comes out the other side? That's the question.