Quite the assortment this week, including another issuance of their excellent Spider-Man from the latest flick.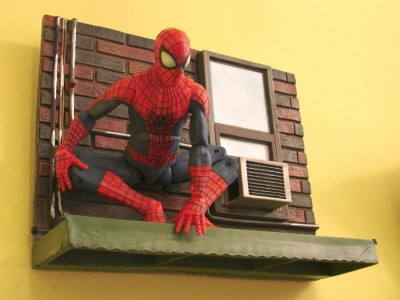 It may have had it's detractors, but this year's The Amazing Spider-Man 2 most definitely hit the mark with one element, that of Spider-Man's costume. It was spot-on perfect in a bunch of ways and seeing him swing across the cityscape was actually one of the highlights of the film, which was otherwise kind of all over the place.
This week's figure from DST is a resistance of the original release that nailed that fantastic rendition of the web-head's duds perfectly and threw in an excellent 16 points of articulation and an NYC high-rise base for him to sit on too. All in all, it's a pretty terrific figure, and is just one of the releases this week from the toy and collectable maker,  of which the rest are all-new.
Check 'em out pricing included, below.
Sin City Select Series 1 Action Figures Walk down the right back alley in Sin City and you can find anything, but you don't need to live in Sin City to get high-quality Select action figures of the movie's main cast! The first series of 7-inch-scale, fully poseable figures from DST includes Marv, Hartigan and Nancy, all based on their appearances in the 2005 feature film. Each figure comes packaged with a deluxe display base and accessories in the famous Select display packaging, complete with spine reference artwork. Sculpted by Jean St. Jean!Marv Figure (SRP $24.99, item #FEB142055)http://www.diamondselecttoys.com/sin-city–action-figures–sin-city-select-marv-action-figureHartigan Figure (SRP $24.99, item #FEB142056)http://www.diamondselecttoys.com/sin-city–action-figures–sin-city-select-hartigan-action-figureNancy Figure (SRP $24.99, item #FEB142057)http://www.diamondselecttoys.com/sin-city–action-figures–sin-city-select-nancy-action-figure
Jay and Silent Bob Strike Back Minimates Series 1 Box Set Snootchie bootchies! This new four-pack of Minimates features four all-new mini-figures based on Kevin Smith's classic road movie Jay and Silent Bob Strike Back. Jay & Silent Bob star as Bluntman & Chronic, and they share the stage with director Chaka Luther King and the dastardly Cock-Knocker! Each Minimate stands 2 inches tall and features a variety of interchangeable parts and accessories. Designed and Sculpted by Art Asylum! (Item #MAR141947, SRP: $19.99)http://www.diamondselecttoys.com/jay-and-silent-bob-strike-back-minimates-series-1-box-set
Batman TV Logo Metal Bottle Opener Nananananana BATMAN! After a long day of fighting crime and a long night of doing the Bat-tusi, Batman needs to cool off with a frosty beverage. And now you can party like a superhero with this solid metal bottle opener in the shape of the iconic Batman TV show logo! This 4-inch opener comes packaged in a collector case with a full-color wrap. Designed by Barry Bradfield! (SRP: $18.00, item #FEB142059)http://www.diamondselecttoys.com/aliens-kitchenware-batman-classic-tv-logo-metal-bottle-opener
Batman Classic TV Series Robin Bust Holy collectibles, Batman! DST continues their line of busts based on the Batman Classic TV Show, and this time they're making the ultimate wingman! Batman's sidekick Robin, the Boy Wonder (as played by Burt Ward) is the next 6″ resin bust in the new series from DST, and is the perfect companion to Adam West's Batman. Pre-order today, because Batman's gonna need all the help he can get once the villains start to arrive! Designed by Barry Bradfield! Sculpted by Jean St. Jean! (Item #JAN141926, SRP: $60)http://www.diamondselecttoys.com/batman-busts-and-statues-batman-classic-tv-series-robin-resin-bust
Marvel Select Amazing Spider-Man 2 Action Figure With Base Due to popular demand, the Amazing Spider-Man 2 Select figure is back in a second edition, the same great figure with different accessories! This 7-inch-scale figure still depicts Spidey in his brand-new costume, and features 16 points of articulation, but now it includes a wall-mountable New York City display base! Figure also includes one interchangeable hand and two modular weblines. Comes packaged in display-ready Select packaging with spine reference artwork. Designed and sculpted by Gentle Giant! (Item #FEB148390, SRP $24.99)http://www.diamondselecttoys.com/marvel-select-amazing-spider-man-2-action-figure-with-base