Fresh from his big screen appearance, a special 'unmasked' version of DST's Amazing Spider-Man 2 action figure is now available at MarvelShop.com and will be coming to the Disney Store before the end of the month.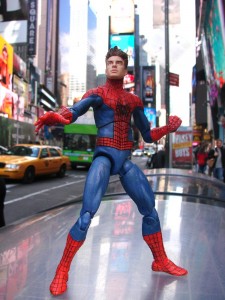 Available right now at MarvelShop.com, DST's Amazing Spider-Man 2 figure of the film's hero is actually pretty darned cool and a worth addition to fan's collections. The figure sports a facial sculpt of the movie's star and current man in the red and blue webs, Andrew Garfield.
Other than the alt head, this figure also comes complete with a 'masked' head, so your Spidey can get ready for action in no time flat, several different sets of interchangeable hands, some webbing to shoot at the bad guys, and a 'modular' 2-foot web line for swinging through the streets of NYC, or your backyard. Whichever.
Spider-Man will be available for purchase exclusively through MarvelShop.com till the 30th of this month (June), after which time, you'll also be able to locate one at DisneyStore.com or at your local Disney Store brick and mortar store.