Digital 'deluxe' editions are nothing new in the realm of video games, but today's release of the Amazing Spider-Man #1 from Marvel is getting a little extra oomph for e-comic readers too.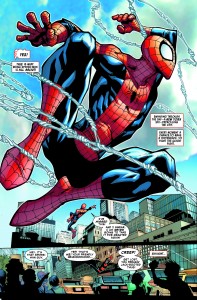 Even if you're a physical comic book die-hard, you still might want to pick up this digital exclusive issue of Amazing Spider-Man #1, if for nothing else than the extras. Included in the bundle is a special peek at Inhuman #1, as well as a real look behind the scenes of what goes into making a comic book. If you've ever wondered what happens in the weeks leading up to a book's launch, this ones for you.
You'll get to see everything from "from script to pencils to inks to colors" and view them all individually in this Special Edition of Spidey's triumphant return to the Marvel U.
Read Dan Slott's script to Amazing Spider-Man #1 in its entirety and see how artist Humberto Ramos, inker Victor Olazaba and colorist Edgar Delgado brought the script to life with each page reproduced in a pencils only and inks only format.

Then, celebrate the return of Peter Parker with an exciting Amazing Spider-Man #1 variant cover gallery. Featuring the talents of Alex Ross, Marcos Martin, J. Scott Campbell, Skottie Young and more, witness some of the greatest artists in the industry celebrate the return of Peter Parker in style!
Amazing Spider-Man #1 is available right now at your local comics shop or through Marvel's digital storefront. Find out more at Marvel.com.