Gearbox, 2K Software, and Telltale Games' adventurous collaboration, Tales from the Borderlands, got a lot less mysterious and a lot more interesting at the SXSW festival yesterday.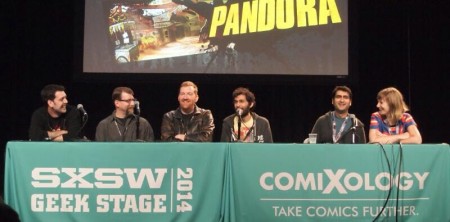 Among the panelists on the Geek Stage at SXSW were Harrison Pink and Kevin Bruner from Telltale Games and Matthew Armstrong and Anthony Burch from Gearbox. The quartet met up with Nerdist Network's Kumail Nanjiani and Emily Gordon (The Indoor Kids) for a chat about what has to be one of the more hotly anticipated games to come out of either studio in the last year or so. Although, were taking about a pair of gaming groups that have produced the likes of Borderlands (and its sequel), The Walking Dead, and A Wolf Among Us, so neither one is all that much of a stranger to big time titles.
This is a lengthy watch, but the group goes into some pretty great things (including some cool parallels to Star Wars' expanded universe) about the upcoming game and, especially if you're a fan, you might want to take the time to sit through the whole thing. Tales from the Borderlands doesn't have a release date as of yet, but we'll keep you posted.