The complete Dishonored experience is in stores today for consoles and PC.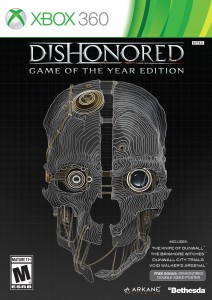 Arkane Studios' Dishonored was a critical and fan hit when it debuted in late 2012 and got some stellar ratings all around (including from us). Now publisher Bethesda has the game back in stores with an all-new package that includes the base title itself plus all the add-on content that saw release this past year.
Inside the pack you'll find the Dunwall City Trials, The Knife of Dunwall, The Brigmore Witches and Void Walker's Arsenal. That's a fare share of single-player story content plus the extras that the City Trials and the Void Walker pack bring to the table. And don't forget about that awesome new packaging- as far as I'm concerned, that's a pretty big selling point right there.
The Dishonored: Game of the Year edition will cost you $39.99 USD and is available now in North America for the Xbox 360, PS3 and PC. European gamers can snag their copy when it goes on sale in just a few days, on October 11th.
Jason's been knee deep in videogames since he was but a lad. Cutting his teeth on the pixely glory that was the Atari 2600, he's been hack'n'slashing and shoot'em'uping ever since. Mainly an FPS and action guy, Jason enjoys the occasional well crafted title from every genre.