Here's a bit of an ambiguous announcement, but one that could have some big repercussions for the Marvel Universe.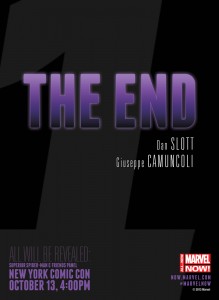 Personally, I'm very excited about this one as the words 'The End' are being tossed around here with the likes of the names Dan Slott and Giuseppe Camuncoli. Slott and Camuncoli, if you don't know Slott is the longtime writer of Superior Spider-Man and saw the 'death' of Peter Parker and the birth of the character that fans have lovingly dubbed SpOck.
But the days of Doc Ock controlled Spider-Man just might be ending if this teaser is anything to go by. Of course, we've been teased before on this, so who knows. One thing's for sure, we won't have too terribly long to wait to see just what The End is because all will be revealed at the NYCC on October 13th.
Stay tuned true-believers.