Nightmares from the Deep is all about undead pirates, a mystical island and plenty of hidden goodies to find- and it's looking for a home on Steam's Greenlight service.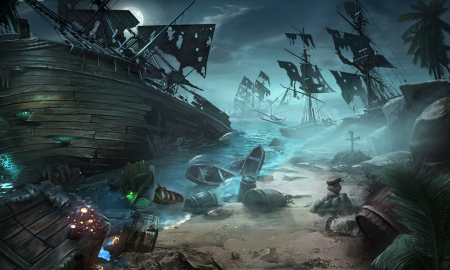 The nautical-themed adventure game is from Polish developer Artifex Mundi and is currently battling for placement on Steam via Greenlight; the community voting service from the PC gaming platform. A demo just posted for the game as well, so you can give it a shot before you vote.
Nightmares from the Deep casts players as museum owner Sarah Black. It seems that Sarah's daughter has been kidnapped by a maniacal pirate… and undead maniacal pirate. He's taken her to an island dotted with long-forgotten wrecks from the age of piracy for unknown reasons and it's up to Sarah to figure it all out and rescue her daughter.
It's adventure, it's 'hidden object', and it's a game that developer Artifex is extremely proud of, calling it the best title the modest studio has produced.
"We offer players one of the best games in the history of our company, a title that has already been released and is available on multiple platforms," said Piotr Żygadło, vice president of Artifex Mundi. "We believe that the explosive mixture of pirates, let's add – undead pirates, and a brilliantly-crafted story, as well as the plethora of mini-games and puzzles, will appeal to Steam users. I encourage you to vote and would like to thank everyone who decides to support us!" added Żygadło.
If you'd like to vote the game up, or just check it out for yourself, click here and be taken to a terrifying island full of rotting tall ships, undead buccaneers… and digital gaming downloads. And if you'd like to check out our review of the iOS version of the game, click here.
Yar.