The iOS fighter from SNK Playmore is now available for mobile brawling on Android mobiles.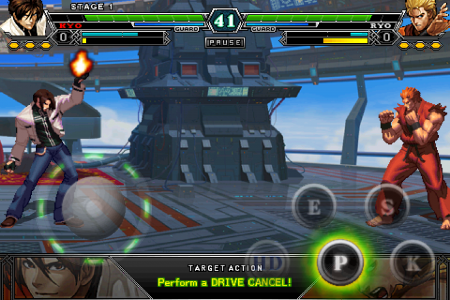 Specifically designed for mobile devices, King of Fighters-A 2012 features a virtual pad and touch-controls that most gamers-on-the-go should feel right at home with. KOFA2012 has pretty much everything you'd expect to find in a King of Fighters game too including a full range of special moves and super attacks.
Here's the highlight reel:
34 fierce fighters clash on Android – Choose your team members from a huge roster of 34 characters. KOF-i 2012 DLC characters "NESTS-style Kyo" and "Iori with the Power of Flames" included free!
6 intense and engaging game modes – THE KING OF FIGHTERS-A 2012 includes 6 exciting game modes: Team Battle for classic KOF 3-on-3 battles, Single Battle for 1-on-1 fights, an Endless Mode for non-stop action with one life, a Challenge Mode in which challenges must be completed according to predefined conditions, a Training Mode to help players practice combos and get accustomed with the Virtual Pad-based controls, and a Time Attack Mode in which 10 matches must be cleared as fast as possible.
Plenty of Trading Cards, artwork, and other special items – THE KING OF FIGHTERS-A 2012 features tons of unlockable Trading Cards and illustrations. Don't miss out on hand-drawn collectibles that can only be seen in this game!
Fighting games in general have found a somewhat strange bedfellow in mobile gaming. The last thing you'd expect is that a touchscreen would be capable of reproducing a fun one-on-one fighter, but there's more than a few on both iOS and Android. King of Fighters-I 2012 (the iOS version) was actually received well when it debuted last year and there's no reason to think that the 'droid edition would be anything but comparable to that.
King of Fighters-A 2012 is available now on Google Play (Android 4.0.3 and later) and will cost you $6.99 USD. Round one starts here.