Diamond Select Toys will be hosting a pair of panel presentations for this year's Comic Con with one focusing on the Minimate line and the other centering on the incredible mix of licenses that the toy and collectible maker has coming up across all its lines.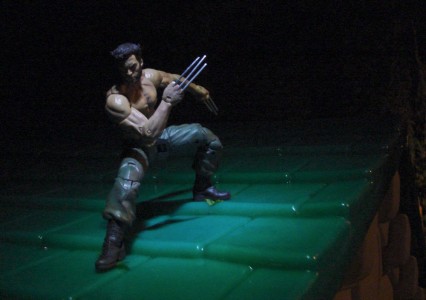 Diamond really does have an incredibly deep selection of properties. Just these last few years the company has released items based on Marvel Comics, Ghostbusters, The Walking Dead and dozens of other things based on movies, comics and TV shows.
As far as slowing down, don't expect to see anything like that any time soon as DST has a full slate of Minimate and full size action figure releases scheduled for the foreseeable future. And it's with that in mind that the company has a pair of panels (and then some) readied for this coming weekend.
Saturday, 7/20/13, 1:30-2:30, Room 8

Marvel Minimates: 50 Series of Awesomeness!

Celebrating the tenth anniversary of the Marvel Minimates line, some of the team behind the popular mini-figure brand are here to talk about their plans for The Wolverine, Thor: The Dark World and the fan-choice Series 50! Diamond Select Toys Director Chuck Terceira and Marketing Supervisor Zach Oat will also share info about the other Minimates lines, including Tomb Raider, Aliens, The Walking Dead and Battle Beasts, as well as submit to a Q&A session and debut the next big Minimates line! Plus, there'll be a Minimates prize drawing at the end of the panel!

Sunday, 7/21/13, 3:00-4:00, Room 7AB

Diamond Select Toys: The Best of All Worlds

The creative minds at Diamond Select Toys are known for their diverse product lines, from Select-scale 7-inch action figures to electronic vehicles to role-play items to vinyl banks. Diamond Select Toys Director Chuck Terceira and Marketing Supervisor Zach Oat will attempt to cover every non-Minimates item DST has coming up, from such brands as Marvel Select, The Walking Dead, Star Wars, Star Trek, Universal Monsters, Lost in Space, Knight Rider, Batman, The Munsters, Ghostbusters, Back to the Future, The Expendables, Lenore, Domo and more! They'll also hold a Q&A, announce some brand-new products, and there will be a prize drawing at the end of the panel!

And be sure to catch Chuck Terceira on the panel of "Old into Gold: How Retro Properties Are Big Business For Toys and Collectibles," Friday night at 7:30 in room 26AB!
Jason's been knee deep in videogames since he was but a lad. Cutting his teeth on the pixely glory that was the Atari 2600, he's been hack'n'slashing and shoot'em'uping ever since. Mainly an FPS and action guy, Jason enjoys the occasional well crafted title from every genre.