Deadpool will be taking a beating from one of the most prominent X-Ladies of all time in his upcoming game.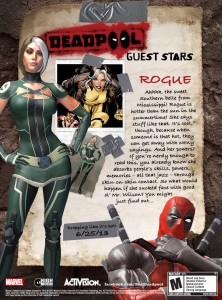 I wasn't originally all that excited to hear about the Deadpool game at the SDCC last year, since I'm honestly not the biggest fan of the character. Even though there are more than enough comic fans out there who love the unique mix of humor and action that 'Pool brings to his monthly book from Marvel Comics, he never really caught on with me.
That's not to say that I dislike the character though as I actually really dug his first few appearances back in '90s mainstays New Mutants and X-Force. That being back when creator Rob Liefeld was working with him.
Since the game's announcement though, I'm kind of changing up my view on the merc with the mouth. The bevy of trailers and screenshots of Deadpool actually make this one look like it'll be more than worthwhile for fans of the X-Men in general- even if you're not the biggest Deadpool fan in particular.
Case in point- we already know that Cable and Wolverine are in the game, as well as Domino and Psylocke. That's a pretty impressive lineup of supporting characters right there and now Activision has announced that longtime X-Man and fan favorite Rogue will also be making an appearance. So though the game is played through the hallucinatory and somewhat psychopathic eyes of Deadpool, there's lots more going on in High Moon's latest than just the red hued jokester. I mean really, how many games has Rogue been in anyway, let alone Cable?
Expect to see the whole crew, including the main merc himself, when Deadpool arrives on the Xbox 360 and PS3 on June 25th.