As we careen into the Summer season and the San Diego Comic Con, exclusives are flying fast and free and The Bridge Direct has finally (officially) revealed their SDCC Hobbit show exclusive.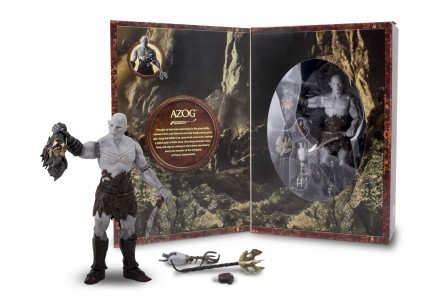 SAN DIEGO COMIC-CON 2013 EXCLUSIVE HOBBIT COLLECTOR FIGURE AZOG

7" tall Orc Commander Azog comes in a numbered, limited edition of 2,600 pieces. Azog is depicted as he appears in the prologue scene from The Hobbit: An Unexpected Journey. In the battle between the dwarves and an army of orcs to reclaim Moria, Azog holds the severed head of the dwarf King Thror up in victory. The figure comes with interchangeable hands – the right hand that holds Thror's head can be replaced with a hand capable of holding either his dagger or mace, and the left hand can be switched with the prosthetic spikes that replaced the hand he lost to Thorin's sword.
As far as show exclusive items go, this is a  pretty darned awesome one. Azog is looking extremely impressive in the preview shot and the accessories are fantastic. Speaking as a fan, the fact that he comes with interchangeable hands and the head of Thror is reason enough to seek him out on the show floor.
And if you are going to the Con, you'll be able to take Azog home with you by heading to booth #3513B- that's The Bridge Direct/WETA's home for the show.