New York native Jeremy Pope started his career in gaming with Acclaim and Rockstar before moving on to form his own company with Rally Games. Now the former Grand Theft Auto producer has moved from crime epics to flying robots in one of the biggest markets of the day- mobile gaming.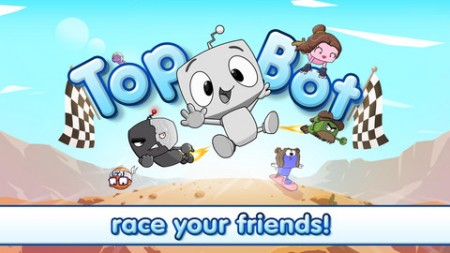 Top Bot (which we recently reviewed here) is a bit of a groundbreaker for gaming. The cartoony racer uses an asynchronous play style that works flawlessly and delivers a mobile, multiplayer experience that's both fun and competitive for gamers who aren't even playing at the same time.
The game comes out of the studio of industry veteran, Jeremy Pope. Pope grew up in the Long Island area of New York and started his career in gaming modestly enough, as a play tester for Acclaim. That was just the start of things though as he quickly made the jump to an absolutely exploding Rockstar games label in his early 20's.
Pope started at Rockstar just as the company was working on their reinvention of the formerly top-down Grand Theft Auto series. He was Associate Producer on the monster hit GTAIII as well as my personal favorite of the franchise- Vice City. Of the games and working on them, Pope says it was "nice to work on something so big. When you go to a party and see the reaction to it [Grand Theft Auto] it's amazing. " That's probably an understatement as GTA has, without a doubt, become one of the very biggest names in gaming.
It's a very mature name in gaming though, and that's something that Pope said had worn on him a bit. It's also something that led him and Rally Games into their current title.
"I actually worked on Ninja Town and loved the feel of that. With Top Bot we purposefully wanted to make something that would appeal to a broad audience; and personally, I didn't want to work on something so hyper-violent again. I actually had nightmares with some of the stuff in the GTA games."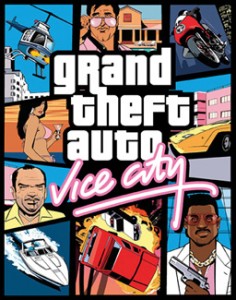 Though he doesn't care to work on violent games anymore, that's not to say that he's 'against' them per say. When I asked him if he thought there might be a link between people playing violent games and real world violence, a hot button of a topic in the media these days, Pope elaborated by saying that; "I don't know if there is a link. I do think that even though it might not hurt, it doesn't help." "I am a big believer in personal freedoms though and that people should play what they want."
Violence in their games is something that Rally Games isn't really worried about at the moment though. Top Bot is social, lighthearted and cartoonish- and it plays on one of the emerging and 'newest' arenas in gaming, that being mobile games. That's four things that GTA isn't (though some may argue the 'cartoonish' point). Pope believes that social aspects to games aren't going away any time soon and neither is mobile as a platform.
"Social is hugely important in games right now and mobile devices were built with that specifically in mind. One of the things we wanted to do most with Top Bot was to build something that was tailored to the console, which is mobiles in this case."
Pope also believes that a social element in a game "showcases the skill of the player" and that it "adds a greater overall and lasting value" to a game. It's hard to argue with that point as mobile gaming has become massively important in only a few years thanks largely to the birth of the Apple iPhone and the entire iOS line of devices. When you add in Android and even the Windows Phone segments of the 'mobile marketplace', it gets rather large and boasts quite the impressive user base.
Always a great help of course is a familiarity with the platform that you're developing for and the team at Rally have it in spades. "Our team also had prior experience; we worked on iPhone games in the past and we had combined experience." said Pope. With the mobile market growing and having the know-how already, it seems like it might have been a foregone conclusion where they might go with their next game, Top Bot. "iOS has such a great ecosystem for development. It's like all of the obstacles are removed."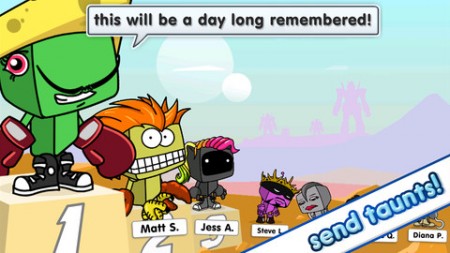 As far as traditional consoles go and the online services that go along with them, Pope won't rule anything out in terms of bringing Top Bot or something new to them either. "I would love that" said Pope, adding that "with things in flux right now (in the industry), I don't think anyone really has a clear vision of what the landscape is going to look like even 6 months from now."  Since we already know that the PS4 is coming for this Holiday season and the next Xbox more than likely is as well, he's probably correct. With the heavy tilt going towards online services for consoles and PC, it's likely as well that the PSN and Xbox Live will be seeing even heavier use in the next generation. A fact that would probably make the folks at smaller publishers like Rally Games smile.
But that 's then and Top Bot is most definitely now. Pope says that Rally is completely focused on the racer at the moment and isn't ready to talk about what's next just yet. He does say that "asynchronous play is just the tip of the iceberg. It gets very complicated to program for very quickly, but we feel like we have a leg up with it as a mechanic."
The way Top Bot plays, I couldn't agree more. The style is something very new in just about every aspect and across all platforms, but it's already attracting attention and personally, I think it's brilliant for gaming with groups who can't all get together at the same time or in the same place to have a race or two.
I can't wait to see what Rally comes up with next.