Ready for Valiant Comics merchandise? Fans have been clamoring for collectables from the reborn publisher since last year's relaunch and with the new deal in place with Quarantine Studios, a line of deluxe statues will be on the way soon.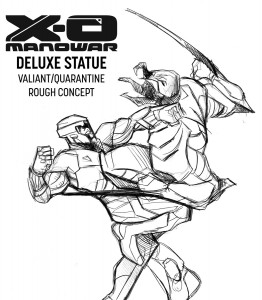 Ushering in the line will be none other than X-O MANOWAR himself, Aric of Dacia. Cast in polyresin with a height of 14″ and placed on a 9 by 10″ base, the inaugural piece in the new collection from  Quarantine was sculpted by Marko Djurdjevic and brings the cover of X-O #12 (part of Planet Death)  into the third dimension.
"The most amazing thing about our working on this tremendous catalog of titles and characters is that the Valiant brand has, up until now, been untapped for the statue market," said Quarantine Studio CEO Paul Conner and Creative Director William Paquet. "With every other major comic publisher having been licensed repeatedly over the past couple decades, Valiant has been lurking in the shadows, rebuilding its footprint to unleash itself back into the spotlight with supersonic concussion. To say we are thrilled to be a part of this renaissance is a gross understatement.

"We have long been fans of Valiant, but the rebirth of the company is mind-boggling," they added. "Our most difficult task right now is deciding where to focus our creative efforts. The Valiant Universe is vast and inspiring."
It's so cliched to say, but Valiant really has taken the comics world by storm since the line was relaunched in 2012. The publisher's books are consistently among the highest rated and best held titles in pretty any month. And that's both critics and fans talking.
It'll be interesting to see where Quarantine goes with the new line and what characters see pieces fashioned after them. With Harbinger Wars looming so large over the Summer, a Harbinger or Bloodshot piece has gotta be on the table.
But I'm probably looking way too far down the line for my own good as there isn't even a release date as of yet for the X-O MANOWAR piece. Whatever the wait for it, it'll be too long as far as fans are concerned.