EA and Criterion's Need for Speed franchise makes the jump to the Wii U, with some console specific bonuses, in Need for Speed Most Wanted U.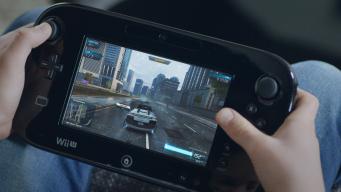 The latest entry in the Need for Speed series, Most Wanted has been a critical and fan success since its launch for consoles late last year. Nintendo's Wii U ads another element to the popular racer in the form of the GamePad and the unique view to the on screen action that it offers.

Using the GamePad, gamers can play a co-op mode called co-driver in which one player drives using one of the Wii U's Pro Controllers, while the other navigates with the GamePad. Player 2 can then help out player 1 by distracting cops and providing real-time navigation assistance. The GamePad comes in handy for more than multiplay though, as it also figures into the single player game. Switching cars, unlocking milestones, and discovering secrets are all possible through the Wii U GamePad's touch interface.
The Wii U version of the game also includes competitive multiplayer and the Ultimate Speed Pack expansion, which includes a bunch of extremely speedy automobiles. And 'yes', the game is completely playable via the GamePad's second screen- which is actually one of my favorite things about the Wii U.
Need for Speed Most Wanted U is available now for the Wii U. The 'standard' version of the game (sans 'U') is also currently available for the Xbox 360, PS3, PC, and PS Vita.