Thought you knew all there was to know about the armored Avenger? Think again.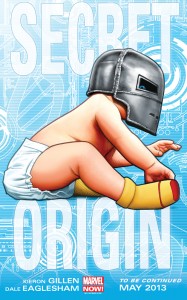 Marvel Comics announced the latest teaser for the next wave of Marvel NOW! books and it's a doozy for Iron Man fans. The Secret Origin of Tony Stark will be revealed (complete with baby Shell-head!) some time soon.
Just what the one sheet tease image means is up for guesses at this point, but the fact that it features a baby Tony complete with Iron Man helm is at least a little bit telling. If we take anything from it, it might just be that the forthcoming tale will tell the story of how young Stark was brought up, maybe leading into him taking up the mantle of a hero.
I assume that would mean a revamped (read: more modern) origin story as well, but we shall see. For now, just stay tuned to Marvel.com (and of course Brutal Gamer) for more updates on the story that Marvel says is "the biggest Iron Man story that no fan can miss!"
Jason's been knee deep in videogames since he was but a lad. Cutting his teeth on the pixely glory that was the Atari 2600, he's been hack'n'slashing and shoot'em'uping ever since. Mainly an FPS and action guy, Jason enjoys the occasional well crafted title from every genre.