Dark Horse Comics started off their new Mass Effect collectables series in style this past weekend at NYCC with a big, bad Reaper named Sovereign.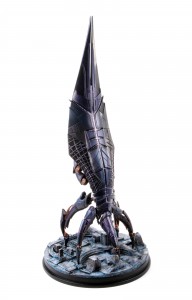 The statue stands in at over 18″ tall and is available today for pre-order at the BioWare store for $349.99 USD. That might be a lot of scratch, but for ME fans this is a pretty darned awesome piece of the game's history.
This craft is the flagship of the rogue Spectre Saren Arterius. Responsible for leading a devastating attack on the Citadel in the original Mass Effectgame, Sovereign is an enormous sentient dreadnought larger than two kilometers in length. The Dark Horse re-creation of Sovereign also has a sculpted base depicting a devastated city and planetary surface to convey its huge scale.
The final size of the run is still to be determined, but it will in all likelihood end at less than 1,000 units so you might want to get a pre-order in if you really want one. Sovereign will descend onto retail shelves at comic and specialty shops on June 26, 2013. As an added little perk, it'll also include an 'in game' multiplayer bonus for Mass Effect 3 (which has yet to be revealed).