Marvel's number one merc joins Mezco's One:12 Collective with an excellent rendition. Deadpool is easily one of the best figures in the line, and that's saying something.
The Deadpool
I am not a Deadpool fan. Okay, well that's not entirely true. I liked the original appearances that the character made back in the 1990s X-Force book. Creator Rob Liefeld had created a character in Wade that played well against Cable (also his creation) and X-Force. He also was a cool addition to the Marvel U in general.
Since then, Deadpool has become significantly more of a comedic "hero". Not that he's 100% non-serious, but jokes and recurring gags have become a big part of his comics. That includes an obsession with chimichangas. He's kinda-sorta been a joke character at times too, though none of this has hurt his popularity. Despite what I might think of him, Deadpool has been a runaway success for Marvel, even spawning an incredibly popular movie, which is soon to get a sequel.
In the toy realm, Deadpool has had a pretty solid history as well. Since the Toy Biz days of the classic Marvel line, Wade has had a bunch of action figures including some awesome Marvel Legends installments. He's also gotten a 12″ collector figure from Sideshow. As usual, this is pretty terrific, but also incredibly expensive.
So where does the Mezco Toys One:12 Collective figure come in? Surprise: it's the best Deadpool figure ever. No really. In fact, it's also one of the very best figures in the line.
Wade's package
Sorry.
The packaging here is what you'd expect from the One:12. It does not however, have the fold out fifth-panel. So what we have here is in the newer range of what Mezco is doing. This'll probably be the last time I mention it, but I greatly prefer the original packaging that the One:12 figures shipped in. This feels kind of typical whereas the original boxes had a more collector feel. Just a personal preference.
And since we're not going back to the former style any time soon, I probably won't mention it again in future One:12 reviews. Oh, also, you'll notice the "exclusive" stamp on the box. That's because this version of Deadpool is the one that was only available via Mezco's online store.
What's so special about it? Headpool. But we'll get to him(?).
Combat gear
Much like the Punisher figure from Mezco, Deadpool comes with. lot of gear. Specifically, he's got grenades, clips, shells, and guns. Then there are his swords, which no Deadpool figure would be complete without. After all, what's Wade without his katanas?
All of the above is really cool, and most all of it fits into or onto the figure. There's nowhere for the grenades oddly enough, but Wade looks freaking cool all kitted up. He absolutely stands out on a crowded shelf.
I would have liked to have seen an extra (maybe unmasked) head, but it's not the end of the world that there isn't one. There are however, plenty of other parts, like added hands. There's also the eye-catching base that he comes with, which is made up to resemble Deadpool's belt buckle. Oh, and yes he's got the usual foot-peg and jumping/flight stand attachment.
That's all typical for One:12 figures though, so none of it is standout.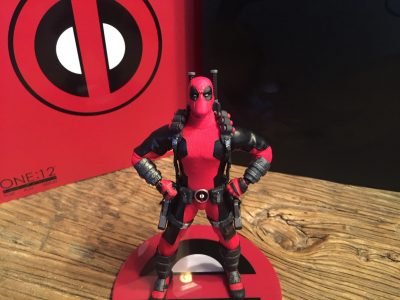 What is standout though, is Headpool. The is the severed head of the "Marvel Zombies" alternate-dimensional Deadpool, who was a kind of zombie. How can a guy with a healing ability that heals from pretty much anything become a zombie? I have no idea. You'd have to read Marvel Zombies for that answer… which I will not be doing.
One thing I do know though, is that Headpool looks kind of neat here. He's fully detailed, right down to what's left of his deteriorating spine. As you can see in the pic below, he has the propeller beanie on the top of his head (body?). And yes, it spins.
If that's not enough for you, Wade even has some metallic forearm bracers in this figure. That means you could remake (to a degree) the semi-famous cover image that had Pool holding Heady like a football, with the latter character gnawing on Wade's bracer.
Sculpt and Suit
Related to Headpool, Deadpool's head sculpt also deserves a mention. You can't really see Wade's face here of course, since he's wearing a full head mask. So there isn't an expression really. But even so, this isn't a goofy or silly looking visage in the least. There's no overly exaggerated eyebrow position and it certainly doesn't look like Wade is smiling under that black and read.
The head sculpt here reminds me of the original Deadpool, from way back in those original X-Force books. And yes folks, that's a very good thing indeed. Also very good is Deadpool's costume itself, which is as close to perfect as I could imagine.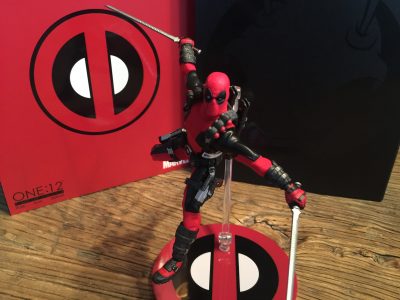 One:12 figures can sometimes be their own thing in terms of costuming, outside of the movie lines of course. Sometimes, like with Superman, they can adhere pretty strictly to the source material. More often than not though, these figures add some new little spins here and there.
With Deadpool, Mezco has added those bracers I mentioned, as well as metal shin guards. Beyond that though, this is pretty iconic. It's not the modern suit, it's not the original suit, and it's definitely not the movie costume. DP instead comes across as a mix of the first two, and man does he look great.
The costume falls perfectly on the frame of the figure, which has that staple One:12 articulation. Deadpool looks awesome in a ton of different posing possibilities, factoring in his array of hardware, blades and display stands.
He just flat-out looks great. This is a figure that's a standout in the One:12 Collective, and draws the eye immediately, even on a crowded shelf. Honestly, I kind of can't believe I'm heaping so much praise on a Deadpool figure, but I have to.
It's that great.
Deadpool
Release date: December 2017
Produced by: Mezco Toys
Line: One:12 Collective
Not-Despicable
Excellent sculpt, suit, and poseability - 97%
Plentiful accessories, and an exclusive Headpool! - 95%
Plainly, this is one of the best figures in the One:12 Collective. I know that's a loaded statement since there are a ton of great figures in this series, but it's true. Take it from a non-fan, this is a Deadpool figure that you won't want to miss out on.