This week's Nintendo Download isn't exactly stacked, but it does include some nifty stuff. A demo of Blaster Master Zero and an NBA Jam-alike are among the offerings.
Blasting again
I'm a pretty big fan of the original Blaster Master on the NES. So as you can imagine, I bought BMZ as fast as anything. If you didn't though, then this is a pretty cool week if you also happen to be a Switch owner. Why? Because Blaster Master Zero is all set for demoing as of right now. It's also been updated with some new goodies too, if you own the title already.
Aside from the demo though, there's a petty cool sounding NBA title called NBA Playgrounds that arrives on the 9th. The game focuses on some hot 2 on 2, arcade-style gameplay, which should immediately remind you of something. Yep, if you're a fan of the classic NBA Jam series, this is one to watch.
Also this week is a TG16 great in the form of Bonk's Adventure. The side-scrolling, caveman-starring action title was one of the very best on the Turbografx. Now that it's come to the Virtual Console, it's ripe for a replay. Just remember, that 'VC' tag means that it's not on Switch. Th only place you can play Bonk here, is on the Wii U.
I know, bummer. But if it's any consolation, remember that Nintendo will be adding the VC onto the Switch. Well, at at some point anyway. Presumably, that would mean that you'll be able to play all these retro titles on the company's newest. Presumably.
Scroll down for the full look at what's new.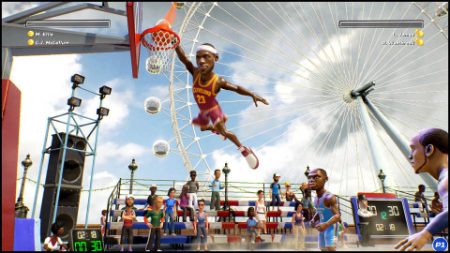 Nintendo eShop on Nintendo Switch

NBA Playgrounds: Classic NBA arcade action is back! Take your "A" game to the playground and beat the best in high-flying 2-on-2 basketball action. Collect your favorite players from a massive roster of current and retired NBA superstars from every team. NBA Playgroundswill be available on

May 9

in Nintendo eShop for the Nintendo Switch console.
Blaster Master Zero – Demo Version – Blaster Master Zero, the 8-bit style action-adventure game, is getting a few new updates – starting with a free demo on Nintendo eShop for the Nintendo Switch console. If you were curious about the game, now's your chance to try it out and blast some mutants. And if you have the game already, the version 1.2 update adds some fun new experiences, like a new "hard mode" that you can access after clearing the game. Also new is the EX Character Mode, which allows you to play through the entire game as one of many new DLC characters that will be available for purchase.

Virtual Console on Wii U

Bonk's Revenge – Bonk is back in this TurboGrafx-16 sequel! Bonk's Revenge is a side-scrolling action game in which you Jump and "Bonk" (headbutt) your enemies while you make your way to the goal at the end of each stage. Double – even triple! – your attack power by eating the meat that appears in a stage. There are eight different hidden bonus stages, and the Dinosaur Train that appears after you defeat a boss will change depending on how many Smileys you've collected.

Nintendo eShop sales:

Nintendo eShop on Wii U and Nintendo 3DS

Activities:

New Street Fighter themed My Nintendo Rewards – To celebrate the release of the Ultra Street Fighter II: The Final Challengers game for the Nintendo Switch console on

May 26

, My Nintendo is offering rewards featuring select games in the Street Fighter franchise!

To learn more about these and other My Nintendo rewards, head over to https://my.nintendo.com/.

Also new this week:

In addition to video games available at retail stores, Nintendo also offers a variety of content that people can download directly to their systems. Nintendo adds new games weekly to Nintendo eShop on the Nintendo Switch console, the Wii U console and the Nintendo 3DS family of systems.

Nintendo eShop is a cash-based service that features a wide variety of content, including new and classic games, applications and demos. Users can add money to their account balances by using a credit card or purchasing a Nintendo eShop Card at a retail store and entering the code from the card. All funds from one card must be loaded in Nintendo eShop on Nintendo Switch, Wii U or the Nintendo 3DS family of systems, but can be used in any Nintendo eShop if the systems are linked to a single Nintendo Network account.

The Wii Shop Channel offers games and applications and uses Wii Points, which can be purchased via the Wii Shop Channel.

Remember that Nintendo Switch, Wii U, Wii, New Nintendo 3DS, New Nintendo 3DS XL, Nintendo 3DS, Nintendo 3DS XL, and Nintendo 2DS feature parental controls that let adults manage some of the content their children can access. Nintendo 3DS players who register a Nintendo Network ID gain access to free-to-start games and free game demos from Nintendo eShop, and also get the latest news and information direct from Nintendo. For more information about this and other features, visit http://www.nintendo.com/switch, http://www.nintendo.com/wiiu or http://www.nintendo.com/3ds.