Plenty of awesome stuff will be heading to stores in July of 2017. So, uh, maybe start saving now?
DC Collectibles brings out the best for mid-Summer
So, you dig statues? There are a pile that are on the list here. Like action figures? The Superman and Lois set is finally scheduled to hit, right alongside Batgirl, and that Blue Beetle and Booster gold DC Icons 2 pack. Now that's some cool stuff right there.
Scroll down for the full list.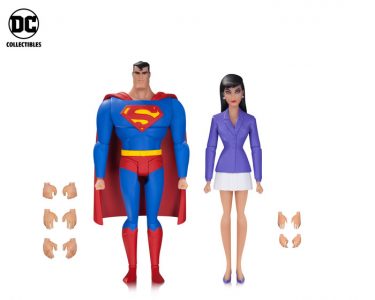 DC DESIGNER SERIES: THE JOKER BY BRIAN BOLLAND STATUE
Straight from the Eisner Award-winning graphic novel BATMAN: THE KILLING JOKE, acclaimed artist Brian Bolland's rendition of The Joker gets the Designer Series treatment! Bolland's version of the Clown Prince
DESIGNED BY BRIAN BOLLAND
SCULPTED BY DAVID GIRAUD
SIZE: 1:6 SCALE /APPROX. 13.71'' TALL
MSRP: $150.00 US
DC ICONS: BLUE BEETLE AND BOOSTER GOLD ACTION FIGURE 2-PACK
It's a bromances for the ages with the blue and gold team! DC Collectibles presents Blue Beetle and Booster Gold action figures each with multiple accessories, including leis and Booster's robot sidekick, Skeets.
SIZE: 1:12/6 INCH SCALE
MSRP: $60.00 US
SUPERMAN: THE ANIMATED SERIES SUPERMAN AND LOIS LANE ACTION FIGURE 2-PACK
DC Collectibles presents its first-ever action figures two-pack inspired by the classic Superman: The Animated Series, featuring the Man of Steel and intrepid reporter Lois Lane with extra hands.
SIZE: 

1:12

 /6 INCH SCALE
MSRP: $55.00 US
BATMAN: THE ANIMATED SERIES: BATGIRL ACTION FIGURE
Batgirl is the latest action figure based on the wildly popular Batman: The Animated
Series! Batgirl appears in her original gray suit and comes with extra pairs of hands!
SIZE: 

1:12

 /6 INCH SCALE
MSRP: $28.00 US
DC DESIGNER SERIES: WONDER WOMAN BY ADAM HUGHES STATUE
Wonder Woman takes her lasso in hand in this new Designer Series statue envisioned by Eisner Award-winning artist Adam Hughes.
DESIGNED BY ADAM HUGHES
SCULPTED BY JACK MATHEWS
SIZE: 1:6 SCALE / APPROX. 14.85'' TALL
ON SALE: JUNE 2017
MSRP: $130.00 US
DC BOMBSHELLS: AQUAMAN STATUE
Set a course for collectibles! The new DC BOMBSHELLS AQUAMAN leads the way as the first-ever solo male Bombshells statue.
DESIGNED BY ANT LUCIA
SCULPTED BY JACK MATHEWS
SIZE: 1:8 SCALE / APPROX. 11.26'' TALL
MSRP: $125.00 US
HARLEY QUINN: RED, WHITE AND BLACK STATUE BY TERRY DODSON
Calling all Harley fans! Terry Dodson's Harley Quinn is the latest and hottest statue from the hit RED, WHITE AND BLACK series.
DESIGNED BY TERRY DODSON
SCULPTED BY JACK MATHEWS
SIZE: 

1:10

 SCALE / APPROX. 7.20'' TALL
MSRP: $125.00 US