It's a concise little list of goodies from DC Direct, as to their highlighted offerings for this coning Holiday Season, but there's still plenty to like.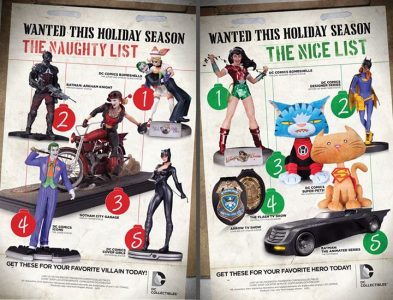 Well, right away, that Batman: The Animated Series Batmobile is a can't miss for fans of the original show. We profiled that piece around Toy Fair this past Winter and it's a flat-out winner. First, it's enormous; second, it fits two figures in the cockpit (finally); and third, it has light-up features. It's a tad expensive at $84.00 USD, but if you're a big Bat-fan, I gotta believe it's worth every bit of that.
Okay, so I went off on a bit of a jag there; I love the thing, what can I say. I'd like to see more vehicles too, and I had it hinted to me that there'd be more if this one sells well.
Past the Batmobile though, there's still plenty to like on this list, like those wicked statues that range the DC gamut from Bombshells, to comics, to the Arkham Knight video game. Then there are props like the badges from the Gotham TV series… and those plushes. I have to say, I have a little bit of a soft-spot for Dex-Starr from the Red Lanters comic, and this little plush representation is kind of home run.
And if you're not crazy about what's on this little guide, there's plenty more. Basically, I don't think you can go wrong with the entire Batman: The Animated Series line from DC Direct, or the new Icons line for that matter. If you don't know what that is, it's a true 6″ line of DC superheroes and villains that just kicked off with Batman, Green Arrow, Mister Miracle, and Deadman. Great sculpts and excellent poseability almost across the boards on those.
So there you have it, make your picks and finish that list, the season is officially here as of this Friday.