Just click through, you want to see these screens.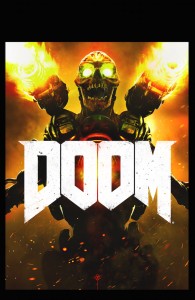 So that just might be the box art for the Doom reinvention by Bethesda that you see to the right. It's not labeled as such, though with the classic logo and a menacing Revenant looming behind it, it just might be. Even if it isn't though, it'd be sure fitting if it was.
Don't forget that the Revenant, once a semi-lesser known Doom baddie, figures into Doom in a major way now. And that's all thanks to the all-new multiplayer that id has cooked up for the reinvention of one of the gaming world's first and baddest shooters.
Shown off at Quakecon this past weekend, Doom multiplayer is a return to the origins of the mode, which really started with the original Doom. While it definitely looks to be a throwback, it's one that has a vicious twist thanks to the raw speed and violence that it'll offer… well, that and the ability to turn into the aforementioned Revenant.
In Doom's multi, you'll be zipping around the maps, which will have some very strategically important vertical elements to them, faster than pretty much any other FPS today. And yes, there'll be a mode that allows a chance to step into the warp itself and be transformed into a half-demon, half-machine death monster.
Past that though, there's also the campaign, which is every bit the throwback to a simpler time (in a good way) that the multiplayer is. Forget about cover mechanics, you won't find any. You can put that regenerative health out of your noggin too, as this is old school shooting at its finest, which means that after blasting through a wave of demons, you'll need some health packs to make it through to your next encounter.
The story is a fairly simple one too, though it seems deceptively so. Straight up classic Doom in pretty much every way, the narrative plays out in-game, and surrounds a game that's more about the experience than anything else. Details? Sure, here they are:
You've come here for a reason. The Union Aerospace Corporation's massive research facility on Mars is overwhelmed by fierce and powerful demons, and only one person stands between their world and ours. As the lone DOOM Marine, you've been activated to do one thing – kill them all.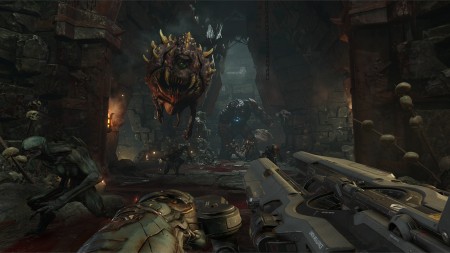 Yup, that's it. And even as someone who's way more into a good story than a mindless action affair, I have to say I dig the approach. As much as I liked Doom 3 and Resurrection of Evil (and I loved them), it's great to see Doom getting back to basics here and reintroducing what originally captured so many gamers minds back in the 90s to modern audiences… albeit caked in more digital blood and gore that ever before. You get the idea.
On top of all this too, is the one things that put Doom into permanent rotation for me years ago- the ability to simply and elegantly make new maps and play/share them. SnapMap makes that a possibility, and it looks more easy to use as any other map maker out there. And not only can you make maps with SnapMap, but you can also get deeper if you want, way deeper.
Using the toolset, you can "add pre-defined or completely custom gameplay, and even edit game logic to create new modes. Instantly play your creation, share it with a friend, or make it available to players around the world – all in-game with the push of a button". Now that sounds impressive.
Personally, I can't wait for this one, and I really don't care if I sound like a massive fanboy at this moment. I kind of am one. Fingers crossed- Doom hits the PS4, Xbox One, and PC in Spring of 2016. Now scroll down and check out the pics.