A new live action trailer for Batman: Arkham Knight has been released. Featuring the hit single from Nine Inch Nails, "Wretched," the trailer sees ordinary people in not so ordinary situations.
One person is on a subway and sees first hand a group of rowdy thugs harassing an old man. Another individual is walking through an alley on a rainy night and is confronted by a group of men who want his wallet. A third man, a bloodied and beaten man, is seen in pain as boxing tape is reapplied to his broken fist  and finally we see a fireman arrive at a blazing building. These people all have a choice, to either take a stand or turn the other cheek and hope for someone else to remedy the situation. Now is the time to be strong, to be fearless, to be selfless. Now is the time to help a city in need. Now is the time to be, the Batman.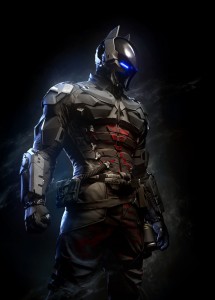 Batman: Arkham Knight is being developed by Rocksteady Studios and produced by Warner Brothers Interactive. Arkham Knight is set for release on June 23 on PC, Xbox One and Playstation 4. This game is the last chapter in the Arkham series and promises to conclude the story lines which were developed in the previous two entries, Arkham Asylum and Arkham City. Batman may have defeated the Joker in Arkham City and revealed the evil plot by Hugo Strange and Ra's al Ghul, but now a new threat has come to Gotham City. The Arkham Knight is a mysterious stranger and with the help of the Scarecrow has taken over the city. It is up to Batman and his batfamily to bring down the Arkham Knight and restore justice to Gotham City.