Star Wars brings everybody together, even publishers, as Marvel and IDW will once again be working in concert to bring some awesome books to store shelves.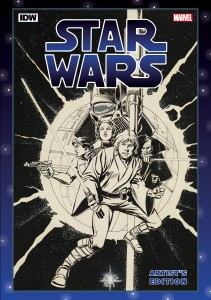 IDW has a little line called 'Artist's Editions', which is a pretty high-end collection of hardcover books that have featured some of the greatest works that the medium has even showcased. The works don't have to be IDW in nature either, as most of the stuff actually comes from other publishers, and this is far from the first time that the publisher has worked hand in hand with Marvel.
Already there've been Artist's Editions of Walter Simonson's The Mighty Thor, John Romita's The Amazing Spider-Man, and David Mazzucchelli's Daredevil: Born Again. And now, we've got Star Wars.
"Since the inception of our Artist's Edition program, we've had Star Wars on our wish list," said Goldstein. "During its original nine year run at Marvel, an all-star list of artists provided material for these now classic comic books from the likes of Howard Chaykin, Walter Simonson, Carmine Infantino, Tom Palmer, and of course the legendary Al Williamson, to name a few."

"The collaboration between IDW and Marvel has produced some of the most immaculate collections of reprinted original comic book material ever to be offered," says Marvel SVP Sales & Marketing David Gabriel. "Now with the addition of the Marvel Comics' 1977 Star Wars being gathered in this over-sized format, this collection truly is a pantheon of content that any and all fans of Star Wars will want to get their hands on."
Like all the other Artist's Editions, the Star Wars entries in the series will be scanned from the original, back and white artwork, and will be offered in their original size and condition. What that means is that you'll actually see the "art, editorial notes, art corrections, etc." that the original comics went through before being sent off to final printing. For a comic fan, that's just a cool slice of history, and for a Star Wars comic fan it's kind of doubly awesome.
Also hitting shelves soon will be the Star Wars Fun Packs. These Packs will be loaded up with "a full-length, pocket-sized comic-book story, along with exclusive inserts including posters, standees, or stickers", which makes for a pretty packed little… pack.
Both the Fun Packs (which you'll be able to get at Toys R Us stores as well as your local comics shop) and the Artist's Edition will be heading to retail this Fall, just in time for Star Wars mania to start up all over again with the first of the new set of films, The Force Awakens.