The US postal service has a brand new series of Batman-centric stamps ready for envelopes across the country, and they were introduced by the Dark Knight himself at the NYCC this past weekend.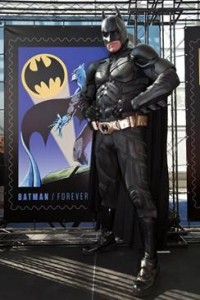 DC Comics bigs Dan DiDio and Jim Lee were on hand for the event, which is a part of the festivities surrounding the Dark Knight's 75th birthday.
"For years, the Postal Service has celebrated so many of America's icons on its landmark stamps — and today, we're excited to honor one of the most iconic comic book Super Heroes in history," said U.S. Postal Service Chief Information Officer and Executive Vice President James Cochrane. "It's very fitting we're dedicating these Batman stamps during National Stamp Collecting Month, because stamp collecting played a role in young Bruce Wayne's childhood in the 1950s comics."
…I can't believe I didn't know that. Seriously, I'm a huge Batman fan and I've never heard that he collected stamps as a kid. Live and learn I guess. My chagrin aside though, Lee and DiDio were joined by the designer of the sheet, Greg Breeding, and U.S. Postal Service CIO Jim Cochrane.
I think people tend to believe that stamps aren't that big of a deal anymore, but the postal service and DC Comics both made quite the deal out of these new stamps.
Said Jim Lee:
"It is an honor to have the U.S. Postal Service feature the Caped Crusader on this new set of stamps in celebration of his 75th anniversary," said Lee. "Batman has inspired and influenced fans around the world for generations and will continue to do so for the next 75 years and beyond — and we hope that fans will add these stylized stamps to their Batman collection."