The Justice League is heading into space, to save the Green Lantern corps and take on classic Superman baddie Brainiac in LEGO Batman 3: Beyond Gotham. Teaser trailer and more after the break.
I know that was was a pre-animated bit of cut-scene, but wow does that look great. The characters look more plastic-y than ever (which is a good thing) and I love that the Justice League is there and ready to play as right from the jump. Kinda makes me wonder why developer Traveller's Tales and Warner Bros didn't just go with the LEGO DC Superheroes name that the actual LEGO toy line has adopted. Name recognition I suppose, and it does look like Batman once again teaks point in the game, which is probably to be expected since he's pretty easily the most popular DC Comics hero (though Superman is catching up).
LEGO Batman 3: Beyond Gotham will not only send the the League into space, it'll also be taking them to some worlds and locations that DC Comics fans should pretty instantly recognize. Since the Lantern Corps play a big part in the threequel, you'll be breaking bricks and fighting baddies on planets like Zamaron and Odym, among others. You'll also have the chance to visit and play around in the Justice League's Watchtower (their space-based home), the Batcave, and the Hall of Justice.
There you'll be able to access "shops, trophy rooms, and the hero and vehicle customizers." Not that you'll really need to build your own heroes if you don't feel like it because LEGO Batman 3 will offer some 150 DC Comics heroes and villains to play as, including the popular BIG LEGO Figures (like Cyborg and Solomon Grundy) that were so popular in LEGO Marvel Superheroes. Oh yeah, villains- in the story mode. In the game, the League actually teams with the villainous Legion of Doom to take on the galaxy conquering Brainiac. That means you'll be playing as characters like Joker and Lex Luthor right alongside Flash and Wonder Woman.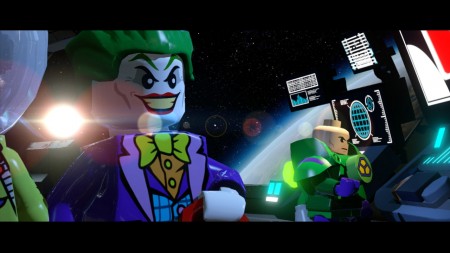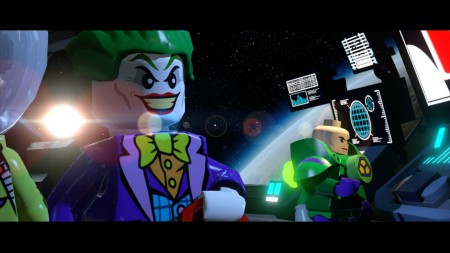 It seems that Brainiac is shrinking down worlds to add to his collection with the power he's harnessed from the Corps and his next target is Earth. Nobody really wants that, not even the bad guys. Traveller's Tales is promising lots of new stuff here, saying that "surprising disguises, Brainiac's mind control ability, and the power of the Lantern rings bring a whole new twist to characters you thought you knew." The LEGO games are almost always a great time, but 'new' is definitely a word that you probably don't associate with them too often (though they have worked some new and different things over the last few titles), so that's a very good thing indeed.
Along that same line, the developer will likewise be shaking up the formula a little more as Traveller's Tales is also promising computer hacking will play a part in the proceedings this time around and players will have access to a "Bat-tastic" Gadget Wheel for easily selecting gadgety goodies for characters like Lex Luthor and the Dark Knight.
As is the case with most LEGO games, there'll also be a handheld edition released for the Nintendo 3DS and PS Vita that'll be a bit different than the home console game. The 3DS and Vita version will offer "Zero-G" gameplay (which sounds interesting), 45 missions in total and almost as many characters as it's big brother- 105 playable DC Comics heroes and villains. There will also be something called "Hazard Builds" in the game. Not mentioned as a part of the main console release Hazard Builds will reportedly "remix combat in spectacular style by customising the action." I'm not exactly sure what that means, but it kind of sounds like you'll be able to do your own thing building LEGO stuff, more or less.
In any event, expect to see tons more on LEGO Batman 3: Beyond Gotham as we head into E3. Looking a little further down the road, you can also expect to actually see the game at retail around Holiday time this year for the Xbox One/360, PS4/3, Wii U, PS Vita, 3DS, and PC.