The nuclear-powered behemoth from the far east is back on the printed page, and ready to tear into your favorite city.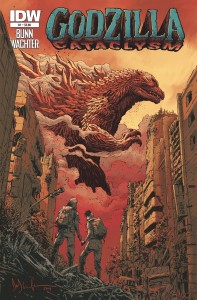 The 60th anniversary of Godzilla welcomes in a brand-new movie and a new comic mini-series entitled Godzilla: Cataclysm. The series takes the monster's mythos to the far future, post /monster apocalypse'. It's here that Godzilla has "abandoned humanity" and basically doesn't want anything to do with people anymore as society has crumbled and the remains of mankind have branched off into tribal living.
Focusing on tribe leader Hiroshi, Godzilla: Cataclysm tells a dark tale penned by Cullen Bunn and illustrated by Night of 1,000 Wolves artist Dave Wachter.
"I've wanted to write a Godzilla story for as long as I can remember," said Bunn, "before I even started Kindergarten, I drew a book titled ATTACK OF THE MONSTERS, which featured Godzilla, along with other monsters, terrorizing the world. The story started with Godzilla erupting from an iceberg and ended when the military dropped a massive sword on his head. I like to think that my storytelling sensibilities have matured since those days, but the desire to write a Godzilla story has remained with me."
Godzilla: Cataclysm is joining IDW's already existing ongoing series featuring the pre-historic monster Godzilla: Rulers of Earth. Look for it this coming August.