SNK Playmore's classic shooter Metal Slug 3 is on the way to PC's this month with all the trimmings and a nice little bonus discount if you preorder.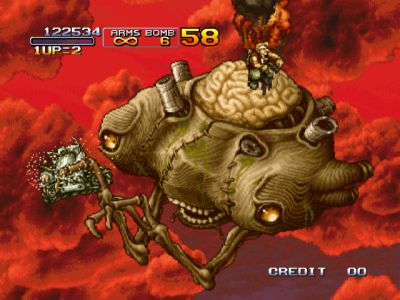 I happen to like all the Metal Slug games just fine, but MS3 is one out of the lot that has a place in many a gamers heart for a myriad of reasons. Now that it's on the way to Steam for the PC, SNK Playmore has a version of the title that might make it even more appealing.
Metal Slug 3 will have all the bells and whistles that you'd expect from a modern arcade perfect port of a classic standup machine. Including a straightforward Arcade Mode, a 'choose any cleared level' Mission Mode and online co-op, this is the definitive version of the game for die-hards who've been following the series and it's myriad of incarnations since the beginning.
The preorder campaign has kicked off in earnest as of today and the game, which will be normally priced at $7.99 USD, has been cut down to $5.99 USD up till release. That basically comes down to 25% off the price tag and definitely nudges it into the 'irresistible' zone for Steam shoppers.
If you're up for the mission soldier, click here and pre-up today.