Captain America has an all-new adventure set in the Marvel Cinematic Universe on Marvel's Infinite Comics digital-only brand. The new book is set between the events of last Summer's The Avengers and the upcoming Captain America: The Winter Soldier film and should fill in some gaps for fans.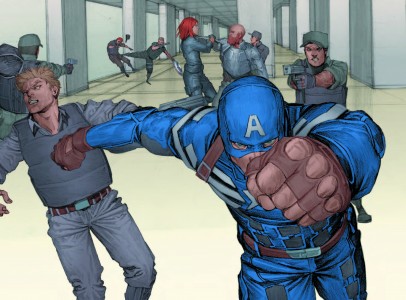 Set between the events of Marvel's The Avengers and the upcoming Marvel's Captain America: The Winter Soldier, this new Infinite Comic takes you into the world of the Marvel Cinematic Universe with a new adventure setting the stage for one of the biggest films of the year!

In downtown Chicago, a dangerous weapon called The Zodiac has fallen into enemy hands. Now, it's up to Captain America, along with guest stars Black Widow and Brock Rumlow, to race against time to stop a mysterious terrorist group before it's too late. All leading up to an action packed confrontation atop Chicago's tallest skyscraper! But is there more here than meets the eye? What secrets is S.H.I.E.L.D. keeping? Are there enemies on both sides?
Infinite Comics has been around for a little while now and has told some meaningful stories that actually impacted their respective characters in the Marvel Universe. This particular issue is a first for the sub-brand though in that it features Marvel's movie universe.
The wholly original tale is brought to readers by longtime Marvel scribe Peter David and up and coming artist Rock-He Kim and it sounds like it has a whole bunch of themes that Marvel fans should enjoy. Aside from just catching up with Cap as to what he's been doing since the NYC Avengers vs Chitauri incident, fans will also get a glimpse of Black Widow and movie newcomer Brock Rumlow. Of course, fans should know Rumlow as the Cap baddie Crossbones and this would mark his first appearance in the movie universe in any way (he'll also be in the movie).
We know he isn't 'bones at the start of the Captain America sequel, but the future for the character as goes the movies is something of a mystery right now. He's most definitely one of the star-spangled Avenger's deadliest villains though and an often henchman of the Red Skull (hmmmm…) so I'd personally be pretty shocked if we didn't see Brock don the death's head at some point in the future.
For now though, you can catch up with Rumlow, Rodgers and the Black Widow herself in Captain America: The Winter Soldier Prelude right now in Marvel Infinite Comics.