Valiant will have a round of #0's on the slate for 2014 under the Valiant Zero label. In the mix- Bloodshot, Archer (no Armstrong), Goat (yep) and H.A.R.D. Corps.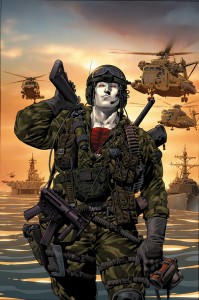 Well this is pretty cool then. Valiant will be releasing the issues as a part of their new Valiant Zero heading as origin and jump-on points for new readers. The publisher is pretty awesome about keeping their line fully accessible to new readership and this is just the latest effort to open up the Valiant U.
It seems like Valiant has a new jumping-on point every few months in their line and that's exactly what they need to be doing to lure more readers into what's become one of the freshest and most exciting universes in comic-dom. As for Valiant Zero, here's the quartet of books that you can expect to see first:
Revealing, at last, the untold story of young Obadiah Archer, where he came from, and just how can he do the incredible things that he does! (Which is everything, remember?) From the minds of writer Fred Van Lente and artist Pere Perez, start reading here to peer inside the war journal of a teenage assassin! "[The] Archer #0 story is fairly dark and grim, because it involves Archer's mind-numbingly horrible childhood," writer Fred Van Lente told Newsarama today in an exclusive interview. "It's a breather in the sense of less things explode and there are less crowd scenes than "Sect Civil War," but I think on an emotional level and a character level we maintain the same steamroller pace.

Also in February, the all-star creative team of Christos Gage, Joshua Dysart, and ChrisCross unleash BLOODSHOT AND H.A.R.D. CORPS: H.A.R.D. CORPS #0! Hey, remember the 90s? The most elite assets of Project Rising Spirit are teaming up for an early mission together — but, in the decade of dial-up, the technology is far from perfect and bugs are bound to pop up in the wetware…with disastrous results…

Then, coming in March, artist Tom Fowler returns to pull double duty with the world's worst superhero team for QUANTUM AND WOODY: THE GOAT #0 – co-written by ongoing series writer James Asmus! Are heroes born or are they bred? Who – or what – spawned the powerhouse of animal husbandry known simply as Vincent Van Goat?

Also in March, original series creators Joshua Dysart and Khari Evans journey into the darkest corners of the Harbinger Foundation for HARBINGER: BLEEDING MONK #0. The Bleeding Monk, formerly Toyo Harada's right hand, has been missing for over a year. Now, uncover the true whereabouts of Harada's cryptic advisor – and the first of many secret revelations to come…
The books will start launching across February and March with Archer & Armstrong and Bloodshot going first and Quantum and Woody and Harbinger capping things off. The series is set to fill in some very big gaps in the Valiant Universe's backstory, so if you're a fan, you probably don't want to miss these.